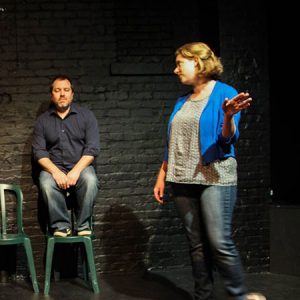 Greer Smith and Joe Uchno: It all began with "Unraveled"
From WIT Artistic/Executive Director Mark Chalfant: A note about WIT's ticket prices
Harold team casting continues to embrace change within program
In celebration of the run of WIT's romantic comedy Improv Actually, WIT is interviewing several couples who met through WIT.
Greer Smith and Joe Uchno have both been mainstays of the improv scene in DC for a while, but it took them a while to actually become a couple. Now the parents of two toddlers, Greer (an iMusical alum) and Joe (Jackie, Citizens' Watch) discuss the casting decision that changed their lives and what it's like to improvise together.
How did you get involved in improv?
Greer: I took my first class at the DC Improv in March 2007.  I was quickly hooked.  My teacher, Shawn Westfall, was in the cast of iMusical and when I saw that show…loved it at first sight.
My classmates formed an improv practice group—meeting at one another's apartments and probably scaring the downstairs neighbors.  Those were wonderful days.  Our FIST team lost early.  I auditioned for ComedySportz and was lucky to get to perform there, then iMusical.  Totally smitten with improv.
Joe: I had taken some classes in New York, where I lived prior to relocating to DC, but it didn't go much beyond that.  When I moved to DC I didn't know anyone here so I signed up for a WIT class and really enjoyed it.  
You guys first got together during the production of WIT's Unraveled—a collaboration with Story District. What were your first impressions of each other?
Greer: Yes, I consider [WIT Artistic/Executive Director] Mark Chalfant casting us both in the Story District show a kind of return-matchmaking.  (Link to Mark and David Steib's love story, please.  I love that story.) [Ed note: No such link exists, but Greer indeed played matchmaker.] That was early fall of 2012. 
Joe: We certainly knew each other before that show, as a result of a few years of crossing paths at the theater or being in big groups hanging out after shows. The exact moment of meeting each other is still a mystery. But it wasn't until that Unraveled show that we started dating.
Greer: Joe and I don't remember meeting. We recall chatting briefly at Del Close Marathon in 2011, but there was no inkling then that we'd end up on a date a year later, let alone married.  (Maybe Mark already had a plan, but at the time, we had none.) Joe was very kind and thoughtful during that brief chat.
Joe: I tried to talk to Greer after an Unraveled rehearsal, but she was eating ice cream with Mark and David, who didn't receive my telepathic messages to "beat it" so I could ask her out.  (Mark's plan was a complex one.)  My first impressions of Greer were that she was hilarious, smart and sincere.   
What's it like performing with someone who you're dating/married to? What's the difference between that and a regular scene partner.
Greer:  Joe and I don't perform together often, but when we do I laugh too much.  The difference between a scene with him and a regular scene partner?  I break more in scenes with Joe than anyone else.  How can I not? He's the funniest.  Reader, don't take my word for it.  Go see V.I. Lenin or Chinese Menu next time he's in it.
Joe: I would say the same; it's hard to keep a straight face performing with Greer.  When you are married to your scene partner you know them well enough to have a feel for their thought process, so it's kind of like seeing a whole added dimension when they perform.  I love Greer's thought process, it cracks me up.  
Improv has applications in every area of life—from home to work. Has improv helped you in your family life?
Joe: Hell no.  Imagine being married to someone who means well and is generally funny and also an incredibly accomplished character actor, but doesn't always know when to turn it off.  That is me.  There are a lot of serious decisions to make when you are married especially when you have kids.  Making those decisions together when one of you might be in character, but he's so good at it you can't be totally sure, is a nightmare to which Greer is constantly subjected.  Improv is for young, single people.  
Greer: The laughter keeps me healthier.  
You're the parents of two young boys.  Can you identify a lesson that improv has taught you that has been helpful to you as a parent?
Greer:  Our kids take after Joe and make me laugh so easily.  Lessons from improv training?  That we all communicate a lot without words.  (Aside to Dan Miller, Joe hadn't heard the song "You say it best when you say nothing at all".) [Ed note: Dan Miller hadn't heard that song either.] Those gibberish improv games (where you and your scene partner communicate while speaking gibberish) are helpful training when you're trying to suss out what your not-quite-speaking-yet child is trying to say.  
Joe:  I like to have a plan for things and don't always react well when that plan goes awry.  Doing improv teaches you that it's ok when things don't go to plan and the results are often better than anything you could have come up with.  I try to apply that to being a parent since nothing goes the way I plan it anyway.  
How do you manage parenting with trying to keep an improv life?
Greer:  I took a long break from anything that rehearses after our second child was born and am just getting back in.
At home, I practice scenes with our oldest. He'd call it "play" — but it's basically a series of three-line scenes. Sometimes we're detectives, sometimes we're robots, etc.
Joe: Yes, James is a budding improviser.  Though he needs to be more accepting of his scene partner's (daddy) contributions to the scene (suggesting we park our rocket ship and brush our teeth.)  
I think it's important to have an activity outside of work that brings you joy and for Greer and me that is improv.  She has been very supportive of my continued involvement in improv and I try to return the favor.  Since she is the superior parent there is a greater likelihood that when she comes home from a show both toddlers will still be awake at 11 PM and watching a DVR-ed Penn State football game with me while eating a bag of licorice, as opposed to being asleep in bed.  But I'm trying.  
Greer: The licorice part is an exaggeration.  
Published:
January 26, 2018