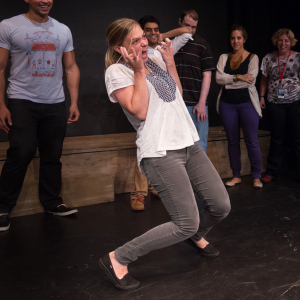 Caroline Pettit: Don't try to blend in
WIT t-shirts available for pre-order
Audition: Upcoming WIT project inspired by BBC's Broadchurch
You've seen Caroline Pettit. Whenever someone is committedly lurching across the stage as the awkward teenage version of Cerberus the hell beast, it's very likely Caroline. These days you can catch her with Commonwealth, but she's also been a part many WIT projects (The October Issue, POTUS Among Us), storied DC teams (Dr Girlfriend, Spirit Bear), and many a successful FIST team (most recently with Mr. Sandman who made it all the way to the quarter-final). We caught up with her to talk about what keeps her coming back to improv and what it's like to do improv with America's future; our children.
What brought you to improv? What made you keep doing it?
A friend from work asked me to take an improv class with her after work. I took my first class at DC Improv with Shawn Westfall and absolutely loved it. I literally have not stopped since my first class in 2009.
I keep doing it a) because it's so fun to collaborate with other amazing people to create a show that has never been seen and never will be seen again and b) because every time I practice or have a show, I get a little better and I love doing something that I can keep learning more and getting better at.
What's different about being a performer when you're also teaching and coaching? Does that change your perspective on your own play?
Personally, I'd look at the question the other way. I know I am a much better teacher and coach because I'm a performer. I'm not a super "heady/rules-y" person when I play so I think everything I teach/coach goes out of my head when I'm performing. That said, I think it filters down in here and helps me out.
You're a glorious pirate and make big, bold moves in scenes. Are your comedy idols also pirate-types?
Haha. Now that you mention it. I think Jim Carrey might be classified as a pirate. I also love Bill Murray (more subtle), Cheri Oteri, Will Ferrell, Tim Meadows, Molly Shannon….. Okay, it seems like *most* of those guys could be pirate-types.
You've done improv in local DC schools on behalf of WIT. What's different or surprising about doing improv with teens and kids?
Kids are naturals at improv! I love the random connections they make and they always do scenes that I have never seen before/am surprised by. I love that they can genuinely make me laugh and how eager/uninhibited they are.
That said, a lot of scenes are about candy.
Do the lessons of improv come up in the way you interact with/understand/raise your own kids?
I think the biggest thing for my family is that my kids see me participating in an artistic community. They see me leaving several days a week to rehearse, perform, coach and teach. We talk about taking responsible risks, collaborating and cooperating, continuing to learn (even after you've been trying something for a long time) and my daughter often wants to know "what happened in your show last night?!" and we talk about the silly discoveries we made on stage. I'm just trying to show them by example about how finding and participating in something you enjoy can improve your own life and contribute positively to your community.
It also means that I read their books very dramatically… often with accents.
If you could go back in time and meet kiddie Caroline, what would you say to her?
I'd tell her to embrace her "weird." Don't be embarrassed by it or try to blend in. Let your freak flag fly and eventually you'll find your outlet and your peeps. I'm so grateful to be a part of this talented, hilarious and unique community at WIT!
You can see Caroline perform on the WIT stage with Commonwealth. If you want to help let your freak flag fly like Caroline, sign up for a Foundations of Improv class.