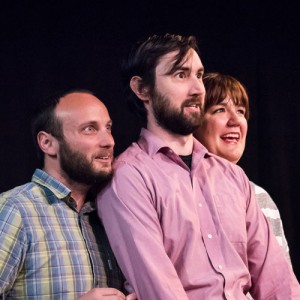 Beverly Crusher: An interview with the FIST X Champions
The October Issue seeks new talent to join its cast
WIT Teacher Darnell Eaton: "I walked into improv by accident"
Out of the 100 teams who competed in the tenth annual Fighting Improv Smackdown Tournament, only one remained in the end: Beverly Crusher.
Made up of Lura Barber (Nox!), Dan Miller (King Bee), and Jonathan Murphy (Madeline), Beverly Crusher bested runners-up Boy Meets Dawson's Slayer By the Bell (Devin Horne, Ellie Klein, Jessica Norman) to take home the trophy. FIST Commissioner Molly Graham took some time to ask the newly crowned champions some questions about their FIST run, their back story, and which celebrities they would want to form a FIST team with.
Did you drink out of the trophy?
Jonathan: We only drink from it if it's filled with the blood from all the teams we beat.
Lura: I'm drinking from the trophy as I type this.
Did you guys meet and rehearse a bunch? Or have you all played together a lot before?
Dan: Jonathan and I perform together a lot—we're both on the indie team Sistine Robot. We initially teamed up to do FIST and knew we wanted a female improviser to be our third. I had never performed with Lura but I loved her in The October Issue and Nox! She was at the top of our list.  
Jonathan: Dan and I came up together from Level 1A. We were on three teams together in 2011, plus a FIST team. It's safe to say we have chemistry. Lura and I met in a clowning workshop and had instant comedic chemistry. I had only performed with her once as part of a Faculty Lounge show. We had one of my favorite scenes together as twin precogs from the movie Minority Report. She makes me laugh more than most. We rehearsed maybe three hours total.   
Lura: I have long been a fan of both Dan and Jonathan, so when they asked me to join Beverly Crusher, I leaped at the opportunity. They knew each other really well already, but it took me a couple rehearsals to get a feel for their respective styles. My Jonathan Murphy impression is now pretty solid, and I'm working on my Dan Miller.
What's the furthest you've each gotten before this year?
Lura: The first time I competed, in 2013, my team Prom Committee (with Isabel Galbraith and Cynthia Van Maanen) made it to the Sweet Sixteen. In 2014, my team The Chaff (with Isabel Galbraith and Dan Milliken) got booted in the second round. I remember watching the final FIST match in 2012, when I was taking Level 2 or 3 at WIT, and being completely blown away by the winners, Thunderball (Mikael Johnson, Paul Laudiero, and Reaves McElveen). If you had told me then that I'd be hoisting the trophy four years later, I would not have believed you.
Jonathan: Dan and I were on a FIST team with a Sistine Robot alum, Jeff Huber, the first year out of classes called But Wait There's More. We got to the final four and lost to Bipolar (Mikael Johnson, Ken Hays, and Topher Bellavia), who went on to win the tournament. There was a match for third place that year which we won because the other team didn't show up.
Dan: That first experience was so intense. I felt completely out of my depth and by the end I remember just looking at my teammates and we were just ghosts. Also, Jonathan had a 102 degree fever for our last matches. Jonathan moved to Providence for a few years shortly after that first FIST, but I've been on a team every year since. Most lost in the second round, although I made it to the Elite Eight once with my team Click Bait (with Jamie Bingner and Elise Webb) in 2014.
What was your favorite scene on your run to winning? And why did it work/made it fun (or not work/ but still fun)?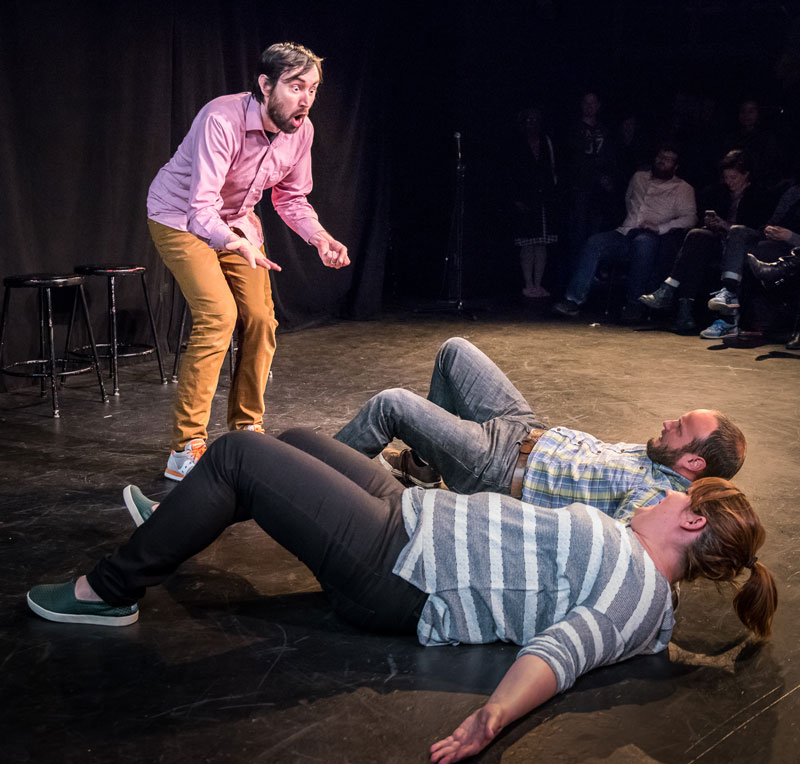 Lura: Although there were many memorable scenes, I think my favorite was the first scene of the final match. We had just won the semi-final about 45 minutes earlier and we were still riding a wave of adrenaline. Backstage, we were all nervous, so we kept repeating our scenework mantra to keep ourselves grounded: "Stay positive. Everything is great. We know each other. This has happened before." The audience suggestion was "waterpark," and Dan immediately sprawled out on stage; I joined him, and then Jonathan stood behind us. Within 20 seconds, we knew that Jonathan was a gondolier and Dan and I were the indolent scions of a wealthy family whom he regularly rowed down a river. In that moment, I knew we would have a great show.
Jonathan: That first scene from the last show was great! We have got to drink mini-coronas together. They are called Coronitas! My favorite scene was in our third show where my character wanted to go to a party and be ogled. Dan played my partner as this nebbish man. Lura was a wealthy seducer. Three super strong characters, each with unique points of view. We managed to pack an actual story arc inside about six minutes while juggling multiple character games. All the character games were super fun and driven by clear wants. Yet the whole thing unfolded so simply. To me, what made that scene pop was that moment I was forced to chose between Dan's pathetic sad sack over Lura's high status lothario. They both were pushing the scene's fun so expertly. I remember looking over at Dan and my heart melted. It felt so honest. It was an honest discovery for me the improviser. When those moments happen, you feel it in the room.
Dan: Looks like these guys are taking the high road. My favorite scene was the one where Jesus got a blowjob. I started out facing the audience as a teen girl praying to be taken to the "Purity Dance" (don't think that's an actual thing). Lura came on as Jesus in heaven. And as I talked about my innocent desires, Jonathan gave Lura a simulated BJ for the ages. It was the longest and loudest sustained laugh I've been privy to for a long time. I was facing away from the action too, so I was just staring at Heather Marie Vitale and Ryan Brookshire in the front row as everyone was losing their minds, trying to hold character and not look back, knowing that something insane was happening behind me.
Jonathan: Yeah, people keep telling me, "I can't look at you the same way."
How did you go about creating your format?
Lura: Like most FIST teams, we spent a lot of time in our first rehearsal talking about our format and costumes. We ended up doing a montage, more or less. I think at some point there was talk of jumpsuits and wigs, but sadly for our audience, inertia won out and we wore regular clothes.
Jonathan: I had this overly-complicated idea involving time travel. Thank God Dan and Lura said no. Then we settled on an incredibly simple format that we ditched the second we started performing. Our brief rehearsals were the opposite of what you saw on stage.
Dan: I'm so glad we didn't have a format. The only rule we stuck with was that everyone was in the first scene.
How do you approach a smaller ensemble compared to larger groups?
Jonathan: I don't differentiate that much. I am more careful to avoid being a stage hog during rehearsals, but I try to avoid thinking too much in shows.
Dan: It's more intense, but not necessarily different. It really hits home that your attitude in a show needs to be "If I'm not in this scene, how am I supporting it?" There's no time to chill on the sidelines.
In ice-breaker activities at work, what do you use as your "interesting fact"?
Lura: People are always impressed that I do improv, and they always ask a ton of questions, so that's my go-to for ice-breakers. I also just bought a house in DC and can't stop talking about it, so that comes up a lot, too. Ask me about my Pinterest boards!
Dan:  It's not "interesting" per se, but I will take any opportunity to talk about my dog Hugo. He's a basset hound/pointer mix my husband and I rescued last August. I have wanted a dog badly since I was a little kid.  He's the best dog ever. All he wants are cuddles and snacks. Look at him!
If you could get two celebrities to do FIST with you, who would they be and what would your team be called?
Lura: Gates McFadden, the actress who portrayed Beverly Crusher on Star Trek: The Next Generation, would definitely be on the team, despite the fact that she has thus far refused to retweet us.
Jonathan: Greta Gerwig and Werner Herzog. We would be called I Never Meta-Gerzog I Didn't Like. Herzog would just narrate Greta Gerwig and I in a silent monoscene. We would go out in Round 2.
Dan: I was going to say the same thing as Jonathan. My second option would be Sharon Needles (RuPaul's Drag Race winner of season four) and Neil deGrasse Tyson. We'd be called the Space Needles.
Any advice for FIST hopefuls?
Dan: It's hard not to be competitive. I'm very competitive. But try to enjoy yourself and focus on having fun.  Of course, you want to get people out to your show and do the whole Facebook Event song and dance. But FIST is like this adult version of sleepaway camp where you get to bond really intensely with folks and push yourself in new ways. Have fun during your shows and enjoy your teammates—that'll translate to better performances anyway.  
Lura: Seconding Dan's advice. WIT cultivates a supportive community of incredible improvisers, and that's what makes FIST such a joy. When you leave the stage after your set, the next team is in the chute, giving you high fives before they go on. So my advice is to do your best, have fun, and enjoy the experience.
Jonathan: Knives out. Go for the jugular. There's no time to ease into a show. Bev Crush was consistently surprised by the dim. We'd always walk off stage and say, "Wow, that was only 12min?". To me that's a sign we were totally out of heads and never stopping to judge. This might sound strange, but having fun together is a great way to be supportive of other teams because it energizes the audience. Also, get butts in the seats and be a butt in the seat for your friends.    
Any pre-show rituals/superstitions?
Lura: A lot of our pre-show warmup involved me and Jonathan chasing Dan around in a menacing manner while making bizarre noises.
Dan: They also rubbed my head a lot.