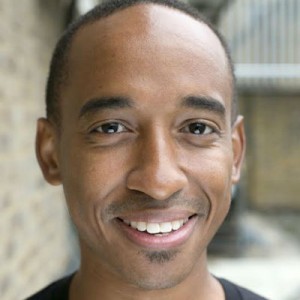 WIT Teacher Darnell Eaton: "I walked into improv by accident"
Beverly Crusher: An interview with the FIST X Champions
WIT's Mighty Board of Directors Seeks New Members
Darnell Eaton teaches WIT classes at Anacostia Arts Center, which, conveniently, is located directly across the street from his house. In this interview he talks about what it means to him to bring the art of improv to his neighborhood, what inspired him to get into improv in the first place, and that time his coworkers doctored a video he posted online and showed it to his boss.
What inspired you to take your first improv class? Do you have a background in theater or comedy?
I walked into improv by accident. In the summer of 2005, I required one more class, an elective, to fulfill my bachelors degree in electrical engineering. I'd always wanted to take an acting class. I thought the class I signed up for was "Intro to Acting," and didn't realize the course title had actually read "Improv Acting." I got into my first class and thought "What the hell is this?"
But we did some crazy fun warm-ups, group exercises, and scene work. It was so fulfilling leaving class every day in tears of laughter, especially since it helped me escape the rigor and intensity of Engineering School. The best part about it all (at the time) was: there was no homework!
My professor blew my mind when he told me that people do improv professionally, or as a hobby, which compelled me to seek improv in DC in 2009, which brought me to Washington Improv Theater. I signed up for my first class, and the rest is history!
Since then, I've performed in a number of troupes in Washington, DC, including Hot & Sweaty, Subsidized Corn, Cloaking Device, Tell Your Friends, Freefall, and Allergic to Winter. I've also performed improv in New York at the Del Close Marathon and at the Adelaide Fringe Festival in Australia. I was amazed at where I was going in such a short period of time.
Do you remember a moment or an idea that stuck out for you in that first class, when you thought, "Whoa. This is awesome. I want to more of it"?
Man, six years ago was a long time ago. But I do remember a scene where I was this obnoxious southern Baptist pastor coming into a home to bless it for the first time…I was super committed to playing this character to the fullest extent possible and to filtering my reactions through my character's point of view. I practically lost myself in the scene and was surprised at the outcome. From then on I thought, "Wow, I want to do more of this." The class and I went out for drinks afterwards and talked about our scenes and that moment, I think, was the turning point at which I decided I want to explore more improv.   
You recently joined the faculty at WIT. What inspired you to make that move?
It's funny because I had never actually thought about teaching, even though my Myers Briggs results recommended I pursue careers in teaching or counseling. I bought a house in Anacostia in the summer of 2012, right across the street from the Anacostia Art Center (AAC); that same year, WIT started hosting shows at AAC. Then a colleague of mine let me know that WIT was interested in teaching improv at AAC. I immediately sent an email query to their education director letting them know that if they needed any help, I was there to assist.
After a number of recommendations from my peers, I was eligible to be a teaching assistant under Dave Johnson, and then that quickly transitioned over to me teaching my first class in the summer of 2015.
I love teaching the introductory course and it has been an incredible experience. It's a reciprocal gift where I get to inspire the students' creativity, and they in turn inspire me by making bold choices in their scene work, taking bigger risks, and judging themselves less.
You're obviously really enthusiastic about being part of bringing the art of improv to your neighborhood. Can you talk a little bit more about why this is so meaningful to you?
Teaching improv at Anacostia Art Center has been very gratifying. Students comment in every class on how improv is an outlet from work, and provides therapeutic benefits — it gives Ward 8 residents a safe outlet to be expressive, artistic, and creative human beings, despite the stigma of the neighborhood.
WIT has offered several Level 1 improv sessions at AAC, all of which have sold out. I have been asked a number of times by students whether WIT is planning to expand their classes at AAC; because of this student demand, I taught Level 2 at AAC this past term. [Ed note: Those students have moved on to fill a level three class with Dave Johnson at AAC for the spring term.]
As a resident of Ward 8, I've seen the change from what Anacostia was 15 years ago.  WIT's programs are enhancing the progressiveness of an area that is often overlooked and seen as underprivileged, and lacking resources for its residents.  Several of my friends (fellow Ward 8 residents) are constantly thanking me for getting them involved in an experience that was new to them. They may have not have involved themselves otherwise had WIT not offered classes at a facility that was less than 0.5 miles away for their homes.
What's it like teaching improv for the first time, after performing for a number of years? Has teaching helped you realize anything about the art form, or driven home any ideas about improv for you?
Teaching has given me a higher level of consciousness of how people interact and connect with their scene partners. I remember when I initially started performing, I worried so much about the degree to which I met the standards of all the rules of improv; it caused a lot of actor's tension on stage and would sometimes stress me out. Sometimes I see the same habits I had — and, in some cases, still have — in my students. It dawned on me that relaxing is really the key to having a successful scene, and that the class should include more relaxation techniques. In my classroom, I tend to work a little more on the students' quality of breathing — taking in their thoughts on the breath, and then breathing out their thoughts.
I think sometimes students feel under pressure to respond right away to what their scene partner says, which is probably more prudent in a show, but that shouldn't be the case in a classroom, where they have all the time they need. I've learned that being more relaxed allows students to connect more with their scene partner and provides an opportunity to enjoy being present in a scene from one moment to the next.  
Teaching has also helped me become more in tune to detail. I find I notice more ways of improving the way I contribute to scenes I perform on stage.
What's the last thing that made you laugh out loud?
This year I did a lot of traveling. I made a Facebook video of myself singing and bragging about being on vacation. It was a screeching high vocal pitch video repeating, "VACATION TIME! I'VE BEEN WAITING FOR THIS MOMENT ALL MY LIFE!"
It got a lot of likes on Facebook, but NOTE TO SELF AND EVERYONE ELSE: Remember that some of your friends, and maybe your co-workers, too, may change some of the content you post. Like adding a part where you rap about your boss. I came in the next day and my boss played the clip on his computer at full volume — then there was a ripple effect, with others playing the video in the aisles. To this day, I'm still reminded that I don't have a career in singing.
Bring some spontaneous joy into your life: Take a Foundations of Improv class with WIT! Learn more about Anacostia Arts Center and our offerings there here.