Behind the Scenes: Understanding WIT's Ongoing Struggle to Find Space
King Bee delivers drama at BINGE
WIT to hold Harold Team auditions in January
While WIT's classes continue to enroll and our performers continue to shine, behind the scenes WIT has been continuing the fight to find a sustainable space solution. We're not alone in facing challenges as we recover from the effects of the pandemic—changing audience habits and rampant inflation are taking their toll on the entire performing arts sector. The Washington Post recently wrote about the tough forecast for mid-sized regional theaters across the country.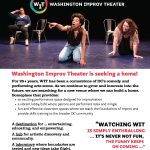 We wanted to share with you some of the challenges WIT is facing. Our goal is to explain some of the decisions we are making and to engage our community in helping us create a space solution.
Why is WIT looking for space?
Our current space usage isn't sustainable in the long-term. Let's talk about classroom and rehearsal space first.
For many years, WIT enjoyed a classroom/rehearsal space hub at a charter school in Columbia Heights, however that arrangement was no longer feasible after the pandemic. After a lot of searching and hustling and negotiating, WIT secured multiple venue partnerships, including those with:
Bloombars (Park View)

Carr Workplaces (Downtown)

Latin American Youth Center (Columbia Heights)

MetroOffices (Downtown)

Sitar Arts Center (Adams Morgan)

The Universalist National Memorial Church (Dupont Circle)

Studio Theatre (Logan Circle) – this use is connected to our artistic residency
Each of these spaces comes with their own security and access protocols, their own rental agreements (including cancellation policies), terms of usage, as well as varying cost structures. Managing these venues has placed a large administrative burden on WIT's staff, primarily Education Manager Kacie Peterson and Operations Director Jordana Mishory. While these relationships are workable, we are still looking for other venue partner/s who may be more affordable, and with space to absorb more program use under one agreement. 
WIT's threshold for affordability is generally around $25-35 an hour, though for some spaces we are forced to pay much more. Our overall rent expenses increased nearly 50% from FY22 to FY23, jumping from $127K to $185K. To make that jump even more dramatic, the $185K we spent in FY23 did not include any administrative space costs due to WIT's staff working remotely (we spent $36K in administrative space in FY22 as part of our residency at Source).
Rent now accounts for 20% of WIT's total revenue – the highest this ratio has been in a decade.
Rehearsals, which do not earn revenue, are an added cost of our performance programming. Each rehearsal for a Harold team or company ensemble costs approximately $200 between space and coaching fees. Harold member dues, which offset the costs of the program, only account for about half of the total expenses of the program (including coaching, rehearsal space, and performance space). The earned revenue from ticket sales for shows similarly brings in close to half of the total expenses of the weekend performance program (more about that below). 
What about performance space? Can't we just stay at Studio?
After our unexpected departure from Source (where we had staged shows for 15 years), WIT lucked into a year-long rental residency at Studio. We renewed and began a second year this fall. 
As a world-class venue, Studio's traditional rental rates are far beyond our reach. As an improv theater prioritizing accessibility, we charge low prices (between $5-$20) for a high volume of programming. Studio's leadership went to great lengths to put together an agreement with discounted rates that could accommodate us. 
For our second year residency at Studio, rates needed to go up a bit. Although WIT's rates are a 65-75% discount off of Studio's standard non-profit rates, it's still an expensive proposition for us. This year was made affordable, fortunately, through the support of a grant from EventsDC's Cultural Institutions Grant Program—a $50,000 grant intended specifically to support WIT's performances at Studio.
We are exploring another residency at Studio for the 2024-25 season, but it's too soon to tell whether that will be possible, so we are also looking for other possible performance spaces.
So what is WIT doing to find a new space?
We are (and have been) exploring possibilities across DC. 
We have a commercial realtor working with us to monitor the market.

We have created a board-led committee to help find a sustainable space solution. 

We're networking with developers and government agencies in order to help us find a match.

We're "cold calling" organizations with spaces that might be able to accommodate us.
We'll be honest: the landscape is tough. While there are still record vacancy rates in commercial and office real estate downtown, and significant vacancies in neighborhoods like Dupont Circle, Logan Circle, and the U St. Corridor, our experience has been that many landlords would rather leave their properties vacant than lower the rent. This is also witnessed by the cost per square foot quoted in all of the commercial real estate listings, as well as every in-person discussion we have had with owners' brokers.
What can I do to help?
As always, we are looking for connections with people who control spaces that could accommodate. For classes/rehearsals, we are primarily focused on venues that can handle multiple events a night (rather than just one or two per night). Venues like charter schools and office buildings, could potentially be a fit. 
For performances, we are pursuing two tracks. We are contacting presenting venues like DC Arts Center, Atlas Theatre, etc., to explore producing on their stages. We are also exploring raw available commercial space that we could potentially convert into performance space.  
More details about what we're looking for can be found in our search profile HERE. If you have leads or ideas, please share them with Mark Chalfant at mark@witdc.org.
Do you have questions? We'd love to provide answers.
ASK WIT A QUESTION ABOUT OUR SPACE NEEDS
Enter your question here and we'll post the answer on this news item for everyone to consider—if you were wondering, chances are someone else was too!  We'll post your question anonymously, but we'll collect your email address so we can follow up, if necessary.
Answers to Questions Submitted by Community Members
What does the reasonable (as in, not "a meteor falls on DC and no one performs ever again") worst case scenario for 2024/2025 look like? Does WIT go dark and not have performances for a year?
Not to worry, we're not going to go dark. A worst case scenario for our performance programming would likely mean WIT would become nomadic (again) seeking stage time. There are black boxes and performance spaces we could pursue, but there are a lot of downsides to this style of programming. A big one is that it can take A LOT of staff time in finding, booking, and coordinating new spaces. But finding different stages could mean making compromises on factors including accessibility (we've been committed to booking accessible spaces), cost (which could impact ticket prices or force WIT to take a loss in order to keep ticket prices low), or show quality (not all venues are suited to improv equally).
Apologies if this is a sore subject but since they have a call out for a new resident theater company I have to ask: has WIT explored returning to Source? Is that something WIT would even want to do?
We love the Source black box—it's one of the best play places for improv in DC. Our departure from Source as a resident company was not voluntary, so returning to the venue doesn't make sense under Source's current ownership. Also, CulturalDC's eventual plan is to convert the black box at Source into essentially a visual art gallery (no lobby, no booth, no lighting grid) and we do not want to play a part in enabling that.
Have you thought about coming out to the suburbs for both class offerings and shows? Driving to DC gets tougher and tougher each day and parking has become horrendous. It is exhausting to go downtown now and although I do go, I am now limiting my trips to do things there. I bet a lot of people in Bethesda, Silver Spring, Rockville, Kensington, Wheaton and more would just love to take classes and also attend shows and I urge you to look into this. Thank you.
We would love to serve more locations, including those in the suburbs. Currently, we program Improv for All workshops in locations like Arlington and Prince George's Counties. There are two main barriers to us having a bigger footprint in the suburbs: organizational bandwidth and funding. Our limited staff capacity means we aren't able to program all over the greater DC area—we need to focus on serving the greatest number of people possible (thus keeping our operations central, especially for performances). We have concentrated our space searches to metro-accessible venues in the District in order to serve the most people in the DMV (and to be the most accomodating to people without cars). We are open to learning more about potential class sites in the suburbs, so if you have suggestions, please send them along! WIT is incorporated in the District and we are proud to be a part of cultural life in the nation's capital. In addition, a substantial portion of WIT's funding comes from the District of Columbia, which requires us to conduct at least half of our programming in DC proper.
What is the seating capacity WIT is seeking for performance space? What is the average number of seats sold per show? (I'm most interested in "full-price" shows, but if you think broader info is useful to the wide audience, you could break down the averages by Harold Night/Pay What You Can/Prime Time)
The ideal capacity for our weekend peformances is about 120. Audience size varies widely depending on many factors, including seasonality and the kind of show. The last two runs at Studio (July's 'Genre is a Construct' featuring Tumbleweed in Stage 4, and the 'WIT Presents' run in Sept-Oct in the Shargai Theatre) averaged audiences in the 60s and 70s. FIST in 2023 brought an average of 91 patrons per show. Ideally, we'll find/create a space where we can offer standing-room tickets if we sell to capacity, and where even an audience in the 20s or 30s will feel cozy and welcoming.
Published:
November 13, 2023