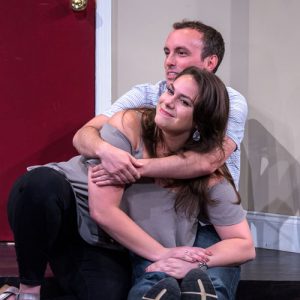 Audition: WIT company ensembles Love Onion and Madeline seek new members
HAROLD TEAM AUDITIONS TO TAKE PLACE ON SEPT. 16
Connor Gorman lends a mic to musical anecdotes with Karaoke Storytellers
WIT company ensembles Love Onion and Madeline seek new members.  Auditions will be held separately because of ensemble availability; all will be held at Source (1835 14th St. NW).
Auditioners should read the descriptions of the player qualities being sought, and sign up to audition by 11:59 PM on Tuesday, July 24. Auditioners for both ensembles should be prepared to commit to weekly Thursday night rehearsals.
Love Onion
Love Onion will hold auditions on Thursday, Aug. 9, and the weekend of August 11-12. The ensemble seeks 1-3 players with at least two years of improv experience. Love Onion strongly encourages women and people of color to audition. Auditions will be open-call, and followed by callbacks for auditioners and Love Onion to play together and assess mutual fit.
We are looking for the following skills and qualities in improvisers:
rapid and radical agreement in scenes
emotional and physical commitment
ability to ground and articulate relationships and scenes clearly and quickly
identification of character deals and dynamics
clear sense of silliness, joy, and play
Madeline
Madeline will hold auditions on Wednesday, Aug. 1; Wednesday, Aug. 8; and Thursday, Aug. 9. Madeline seeks two new players, at least one of whom is male. People of color and other players from diverse backgrounds are encouraged to audition.
Madeline performs a format called the Ugly Flower—essentially a Pretty Flower (aka a Spokane) with a fluid base scene that moves to adjacent spaces and involves new characters. Stylistically, Madeline's players strive to create joyous performances featuring memorable characters and moments of poignancy.
Qualities sought in an audition include:
a playfully collaborative spirit
a thoughtful approach to improv and comfort working in a variety of formats
emotional range and commitment
significant performance experience
Individual questions can be sent to Dan Miller (Madeline) at dan@witdc.org or Jordana Mishory (Love Onion) at jordana@witdc.org. General queries can be sent to either contact.