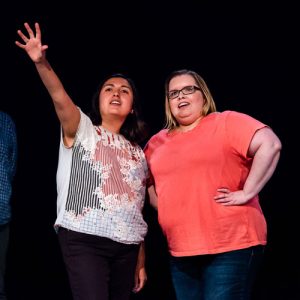 HAROLD TEAM AUDITIONS TO TAKE PLACE ON SEPT. 16
WIT honored as Bloomberg Philanthropies grantee
Audition: WIT company ensembles Love Onion and Madeline seek new members
Washington Improv Theater's next auditions for our Harold team program are Sunday, Sept. 16, 2018. The deadline to sign up is 11:59 PM on Tuesday, Sept. 4.
Early sign-ups are encouraged—if all slots are filled we may be unable to add more. Auditions are in one-hour blocks at Source (1835 14th St. NW) in the upstairs Rehearsal Room. Please contact jordana@witdc.org if you need special accommodations. Auditioners must sign up online to receive an audition slot. If you can't make this date click here to see future audition dates.
If you are interested in auditioning, please:
Ensure that you have successfully completed – or are currently taking –  the Harold class at WIT, or have commensurate experience. This is a prerequisite.
Review carefully the Harold Team Mission and Expectations Document to get a sense of the program's goals and how it works.
Review the Auditions FAQ for more info on the process.
After reviewing the document, if you are interested in committing to the program you can SIGN UP HERE for an audition slot.
Check out WIT's current roster of Harold teams here.