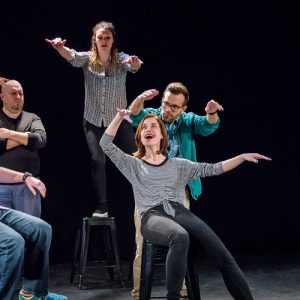 WIT honored as Bloomberg Philanthropies grantee
18 New Players Join WIT's Harold Teams
HAROLD TEAM AUDITIONS TO TAKE PLACE ON SEPT. 16
Washington Improv Theater is happy to announce that it is a grantee recipient of Bloomberg Philanthropies' Arts Innovation and Management (AIM) program. The invitation-only program seeks to strengthen the organizational capacity and programming of small and mid-size cultural organizations within Atlanta, Austin, Baltimore, Denver, New Orleans, Pittsburgh and Washington, D.C. Through the $43 million multi-year initiative, Bloomberg Philanthropies will provide unrestricted general operating support as well as arts management training in areas that include fundraising, strategic planning, marketing and board development.
"WIT is thrilled to to be honored by Bloomberg Philanthropies and in the company of such excellent grantee organizations," said WIT Artistic/Executive Director Mark Chalfant. "This support will help WIT further our mission of sharing longform improv across DC, including supporting our free Improv for All workshops, our diversity scholarship, and performance programming like our free, weekly Harold Night."
AIM targets arts non-profits because of the vital role that they play in building communities, driving local economies and supporting artists. "The arts inspire people, provide jobs, and strengthen communities," said Michael R. Bloomberg, founder of Bloomberg Philanthropies. "This program is aimed at helping some of the country's most exciting cultural organizations reach new audiences and expand their impact."
Bloomberg Philanthropies will develop curricula and conduct seminars for the program in partnership with leading experts. AIM organizations will engage in activities that strengthen their long-term health and goals, and will receive one-on-one consultations and implementation support for organization leaders and their boards.
All organizations invited to participate in the 2018 expansion of the AIM program are nonprofits that have been in existence for at least two years. Participating organizations will be required to secure 20% of their AIM grant in matching dollars; reach or maintain 100% board participation in fundraising; and maintain up-to-date information in DataArts, an online management tool that assists arts organizations across the country in collecting, learning from, and using data effectively. The grants will be unrestricted to allow recipients to utilize the funds to address their greatest needs.
Since 2011, AIM has helped more than 500 small and mid-sized organizations in all creative disciplines, including theater, visual arts, music, film, literature and dance.
Published:
August 17, 2018