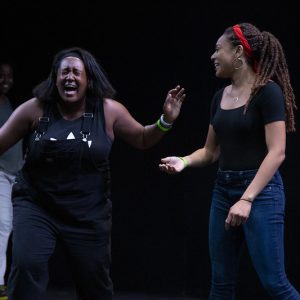 Audition: Hellcat Seeks New Members
WIT hosting jam for neurodiverse improvisers
Big News: We need your help in writing WIT's next chapter
From WIT ensemble Hellcat
Hellcat is looking for new members! Auditions will take place on May 2 and 7.
Hellcat is an all-female WIT company ensemble. Our shows are a playful exploration of the truths and insights of the human experience, as well as profound questions like, "What if we were dealing with the complexity of heartbreak, and also we were little goblins who speak only in riddles?"
If you enjoy the juxtaposition of heartfelt and absurd, Hellcat is seeking female players who have at least one year of improv performance experience. Completion of the WIT curriculum or equivalent training is a huge plus. Solid emotional commitment, fearlessness, specificity, and a focus on fun will be essential. Hellcat strongly encourages women of all backgrounds, ages, voices, and experiences to audition.
SIGN UP TO AUDITION FOR HELLCAT
The deadline to sign up is 11:59 PM on Friday, April 22. Auditions will take place at Source, 1835 14th St. NW. Please keep your schedule free for a potential callback on May 11 from 7 – 9 PM.
Hellcat currently practices twice a month on Wednesday evenings from 7-9 PM at a location near Source. The team performs weekly during WIT runs. Hellcat also occasionally explores other exciting performance opportunities in DC and elsewhere. If you have any questions about the team/eligibility, please email Clare Mulligan (claremmulligan@gmail.com).