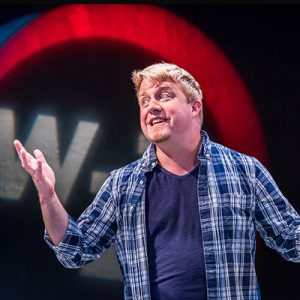 An update on WIT's search for a permanent space
NEW WEB SERIES: This Zoom Life examines friendship in quarantine
Improv for DevOps and Agile Development
From WIT Artistic/Executive Director Mark Chalfant
Getting a permanent space for WIT has been our community's dream for years. And with donors and supporters like you having our back, we've worked tirelessly to find a brick-and-mortar space for WIT to call its own.
With that, we wanted to share an update with you that is a long time coming.
In fall 2019, Washington Improv Theater was selected by Hoffman & Associates to be the operator of the forthcoming performing arts space at the Waterfront Station II development in Southwest (one block north of the Waterfront Metro station on 4th St. near I St., SW). WIT was selected through a competitive RFP process. WIT will cover costs of building out the space into a theater, and will lease it at below-market rent.
The space WIT envisions in Southwest includes a Mainstage theater (approx. 120 seats), Studio theater (approx. 50 seats), two flexible use classrooms, backstage and greenroom space, office space, and a front lobby with bar/cafe. In the spring of 2020 WIT signed a non-binding Letter of Intent for the space, but has not yet signed a lease.
The project is due to break ground in 2020, and should reach completion in 2023. As you can understand, given current circumstances, the project has us feeling both excited and cautious.
The COVID-19 pandemic brings some uncertainty around future construction plans, the future of safe public assembly and performance, the overall health of the economy, and especially the health of DC's philanthropic sector.
Nevertheless, we remain hopeful that we'll find a way forward with this project. We will keep you—our trusted donor and supporter family—updated as the project develops.
Thank you for supporting WIT and helping us with this milestone achievement. We remain committed to our mission of bringing joy and connection to Washington and we are excited about what the future holds.
Mark Chalfant
Published:
October 29, 2020