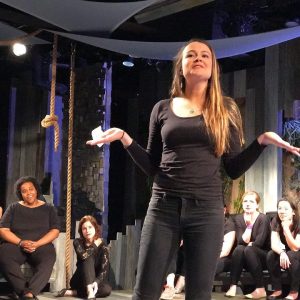 Kelsey Peters
Washington Improv Theater
Shawn Westfall
Nicole McCauley
Kelsey believes everything you need to learn about improv can be learned from a preschooler: why would you watch that kid eat mud when you can eat it together?
As a teacher, Kelsey creates an environment where no one feels like the "weird kid," because she believes that in reality, we're all the "weird kid." With support from teammates, she believes every unusual choice or mistake can be made into great, original comedy. By empowering students to let loose and to celebrate differences, she hopes to teach her students to become the ultimate fun exposers
She taught preschoolers for three years so she's legit, but she's also completed the curricula at Washington Improv Theater and Dojo Comedy, and has taken classes at the Upright Citizen's Brigade Theatre.
She plays on independent teams Trustfall, Couch Money, Rancy Neagan, and One Wet Dog. She was the assistant director for Vagina! An Improvised Monoglogue show. When she's not improvising, she's walking her cat, practicing yoga, or buying everything at REI.
Student Feedback
"That was so much fun! After two hours with Kelsey I already felt like a real comedian!"
Number of motorcycles crashed while test driving
1
Number of crashed motorcycles she owns
1
Life-philosphy
Mistakes are gifts