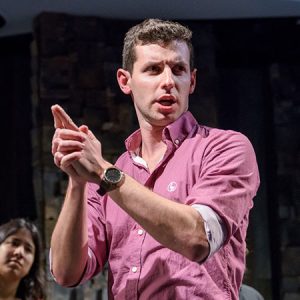 Zach Watson
Washington Improv Theater
Mary Ann Badavi
Elizabeth Fulton
Zach hails from the suburbs of Dallas, Texas. He began his improv journey in Honolulu, Hawaii, where he performed with Think Fast Improv.
Zach completed improv courses from On The Spot Improv and the full curriculum at Think Fast Improv in Honolulu, eventually performing both shortform and longform Improv with troupes Think Fast and It's Not Wolves. He's adapted improv concepts and games for military leadership training, teaching a Leader Professional Development session to an Army battalion in Hawaii.
Zach believes that improv can be a force for good in the world, but enough of all that. He's really into good beer, snacks, travel, and lists. His ultimate weakness is the snooze button.
Best Dance Move
Keeping the beat