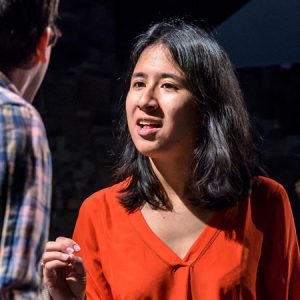 Mary Ann Badavi
Washington Improv Theater
Robin Doody
Zach Watson
Mary Ann's desire to perform stems from the time she didn't get a female part in her middle school production of The Taming of the Shrew because she had a bowl cut. She's still not over it.
Mary Ann started going to her college improv troupe's shows her senior year because she had a crush on one of the members. She eventually realized she didn't actually like him, she just liked that he did improv. She has taken classes at the DC Improv and finished the WIT curriculum. She currently performs with the indie team Pizza Party.
When not on stage, Mary Ann is usually eating pasta or accidentally knocking things over. She likes to go on early morning runs with the free fitness group November Project and talks about it constantly. It's super annoying.
Best Dance Move
The entire routine from Robyn's "Call Your Girlfriend"
Childhood Nickname
Newt (my dad still calls me this)