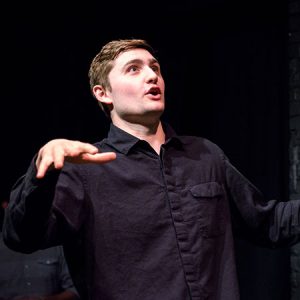 Zach Beattie
Washington Improv Theater
Jess Lee
Alex Kazanas
Zach Beattie was raised by coyotes in rural Missouri and has been studying and performing improv since 2010. His coyote parents never call.
Zach moved to DC in 2015 and immediately enrolled in the WIT curriculum. In DC he's performed with FIST team Mr. Sandman, Improv Actually, Richie, and most recently, Love Onion. He is a former member of the University of Missouri's improv troupe Comedy Wars.
He recently bought a bonsai tree, but it's dying and he doesn't know what went wrong. He doesn't think he over-watered it. He is very upset by this.
Photo by Jeff Salmore
Favorite snack
Cheese (all)
Best dance move
The Bird Attack