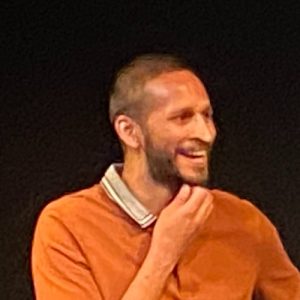 Vasant Joseph
(he/him)
Washington Improv Theater
Cale Harper
Matthew Schwartz
Vasant grew up in the Maryland suburbs and was always a fan of comedy. Craving the silliness of the school lunch table as an adult, Vasant was thrilled to discover the magic of improv.
Vasant has slowly but surely been taking improv classes and workshops since 2017 at DC Improv, WIT, and Rails Comedy. After taking a break during the pandemic, he returned to the scene with clear eyes, a full heart, and several shots of Pfizer, finally finishing the WIT curriculum in spring 2023. He has attended too many shows to count, and performed in FIST as well as indie shows at WIT and The Improv Place.
Vasant is a big hip-hop and indie rock fan, and loves going to shows, but has relegated himself from the mosh pit to the balcony due to his fear of injury and desire for personal space. He loves playing any types of games, especially Spikeball and chess.
Childhood nickname
Croissant
Personal hero
Donald Glover