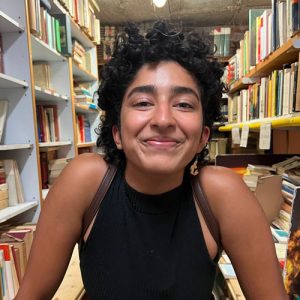 Urmila Janardan
(they/them)
Washington Improv Theater
Angel Idrovo
Smriti Goel
Urmila doesn't see anything wrong with laughing at your own jokes. Who will find my jokes funny if I don't?
Urmila started improvising on their short-form college team, The Sitting Down Club. After graduating, they were nostalgic for the scheduled play time improv allows and decided to take classes at WIT, completing the curriculum in 2022.
Urmila grew up in Southern California and misses the ocean dearly. They like climbing rocks, finding little guys (mushrooms) in the forest, making dinner for their friends, and dreaming about liberation. They are a researcher by trade, focused on how technology materially harms people, and participate in mutual aid organizing in Northwest DC.
Childhood nickname
Squirmy