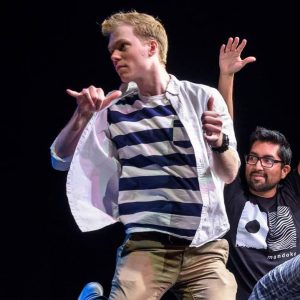 Tim Montgomery
(he/him)
Washington Improv Theater
William Ferriby
Sarah Herhold
Tim Montgomery has been been improvising in Washington D.C. since 2015.
He started taking classes at Dojo Comedy where he performed on many teams, most recently Maple Sunday. Improv has led Tim to many things he never imagined, including hosting his own late night talk show "A Place to Fail". He has also performed at the Del Close Marathon and NYC Sketchfest. Tim will mostly say yes if you ask him to perform.
He often finds himself in precarious positions on stage and struggles not to break.
Hidden talente
Pool Basketball
Best Dance Move
The Leg Guitar