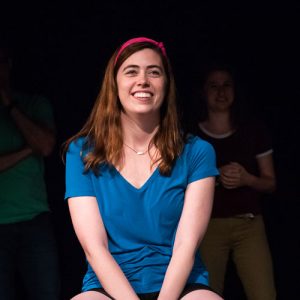 Tess Higgins
Washington Improv Theater
Andrew Dickinson
Bex Ehrmann
Tess is a self-proclaimed smart cookie and DC area native, who has luckily grown out of calling the Washington Monument "The Pencil."
Tess started improv three years ago, in a WIT level one class that her parents gifted her for Christmas because "you should try something new!" Now she's completed the curriculum through Harold, dabbled in musical improv, and a member of the WIT special project team, Heavy Rotation
Tess is also a professional actor in the DC area, having worked with companies such as Imagination Stage and Theater Alliance. There was also that one time that she did a commercial for Black and Decker and had to learn how to install a new door handle. When not on stage, Tess is usually leading a yoga class or teaching piano lessons.
Best dance move
A sensible jazz square
Hidden talent
Finishing the Express crossword without hints