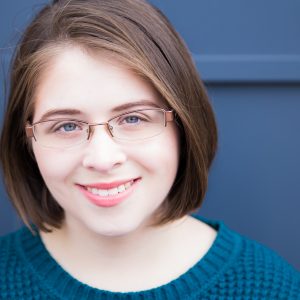 Bex Ehrmann
Washington Improv Theater
Tess Higgins
DJ Mirisola
Bex Ehrmann moved to the DC area in the fall of 2016 and found creative fulfillment and community through WIT classes.
Bex started volunteering to get those sweet, sweet class discounts. But her addiction to improv rapidly developed, and Bex continued volunteering to see as many shows as possible. She loves being in a room where anything can happen, where risk-taking is rewarded, and where laughter brings people together.
Outside of improv, Bex is a multi-disciplinary theatre artist and drama teacher. She grew up in the northern suburbs of Chicago, earned a bachelor's degree in theatre from Northwestern University, and moved to DC for an education apprenticeship with Imagination Stage. Though Bex holds Australian citizenship, she has (sadly) never lived in Australia. She hopes to fix this one day. Hobbies include writing, cycling, sending snail mail, doggo-spotting, and making bad jokes.
Best Dance Move
Acting out the lyrics