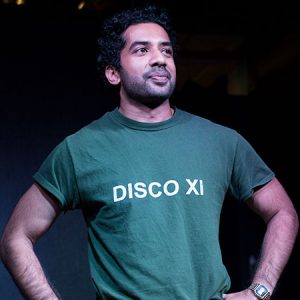 Nik Manohar
Washington Improv Theater
Olivia Martinez
Kenny Park Yi
Nik made his acting debut in 2007 as a painter in his middle school's production of Alice in Wonderland. He's been chasing that feeling ever since.
After dabbling with speech and debate throughout high school, Nik started doing sketch and improv with The Bureau during his junior year of college. Since moving to D.C., he has finished the WIT curriculum and can be found performing with the indie teams Pizza Party and The Church.
Raised between Philadelphia and Columbia, Maryland, Nik is jazzed about the Eagles' Super Bowl win, but not *too* jazzed. He also knows how to play trombone and sing in a fairly deep voice. A real triple threat.
Photo by Sarah Sykora Photography
Favorite snack
A pint of Ben & Jerry's (dealer's choice)