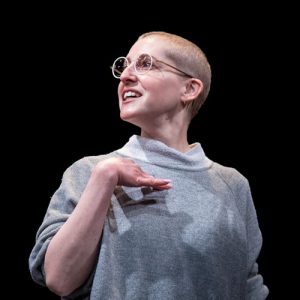 Mikki Smith
(she/her)
Washington Improv Theater
Ryan Pierannunzi
Jack Barnes
Mikki Smith was raised in Knoxville, Tennessee, which is apparently home to the Vols. She knows little to nothing about sports.
Mikki took her first improv class in 2019, after which her teacher said "I hope you keep at it." Never one to disappoint an authority figure, Mikki threw herself into improv with classes and workshops at DC Improv, Free Association, Groundlings, North Coast, and Second City, and completed the WIT curriculum in November 2021.
Mikki performs in the WIT Harold program, indie teams Dead Plant Society and Please & Thank You, and way too many popup groups to count. Mikki knows no greater joy than playing in back-to-back-to-back shows.
Mikki is one of many, many lawyers in DC (and no, you shouldn't sue [object of your disdain]). When not at work or onstage, Mikki fills her hours taking photos of her dog and cat's epic friendship, eating boxed mac & cheese, and checking her group chats. Mikki once won a high school essay contest by being the only applicant. Mikki promises she's still coming, she's just running 10-15 minutes late.
Photo by Mikail Faalasli
Childhood Nickname
котёнок, which translates to "kitten"
Favorite thermostat range
71-73 F