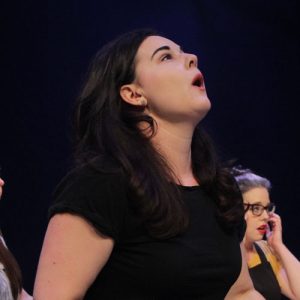 Meredith Garagiola
Washington Improv Theater
Eileen Breslin
Catherine Giddings
Meredith is originally from Arizona and is pretty proud of the Grand Canyon, despite her lack of tangible contributions to its formation or upkeep. She urges you to visit it if you haven't been before. It is as advertised.
Meredith completed the curriculum at Washington Improv Theater and also takes classes at Dojo Comedy and at workshops far and wide. She performs around town with the indie team Death Wipe.
Meredith is a Capricorn and the oldest of four kids, so she liberally uses the phrase "You can be in charge of . . . " when attempting to trick someone into thinking they have independent agency in a situation where they are really just a pawn in her broader grand strategic vision. Usually that vision involves trying to get someone else to take out the trash. She would describe her success in that department as middling. If she could she would communicate only via movie lines, which drives some people crazy. If you're into that sort of thing, text her. She always responds promptly.
Photo by James Jelin
Favorite Historical Figure
Elizabeth Taylor
Personal Hero
Miss Rumphius