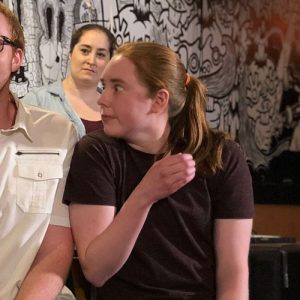 Eileen Breslin
Washington Improv Theater
Tandra Turner
Meredith Garagiola
While enduring excruciating pain and lying in a hospital bed in the dead of night, 13-year-old Eileen officially discovered improv via the sanity-saving, laughter-inducing Whose Line Is It Anyway?.
Five years later, a queerplatonic partner of hers at the time suggested she do "stand-up," a compound word Eileen quickly recognized as a layman's code for improv, a practice and community Eileen would later fall in love with.
Eileen has studied at The Comedy Spot, DC Improv, WIT, Studio Theatre, iO Chicago, The Annoyance, UCB NY, and The PIT. She has played on indie teams including The Basement Gang, Newold, Mind Map, Insect Fight Club, Free Snacks, and duos Sound & Motion, RED, Turquoise, and The Plumbers. Furthermore, to make the art form more accessible for all people, she has contributed to the Individual Agency, Neurodiversity, and Physical Disability committees of Diversity in DC Improv.
By day, you can find Eileen playing rags and jazz pieces on the piano; working out by kickboxing, rhythm tapping, suspension training, or practicing parkour; studying autonomic medicine and disorders; teaching medical students and residents; exploring the outdoors—whether in search of solitude or an adrenaline fix—by skiing, snowboarding, surfing, climbing, hiking, canoeing, kayaking, caving, scuba diving, or skydiving; writing a book about the mistreatment and abuse of children with rare or poorly-understood medical conditions; living out of her trusty Kelty Redwing 2500W in places she has longed to sojourn; snuggling with her daredevil of a dog Koda; and drafting long love letters and thank-you notes to the many people—acquaintances and partners and close friends alike—in her life.
Favorite book
It's a tie between Tuesdays with Morrie and Descartes' Error: Emotion, Reason, and the Human Brain.