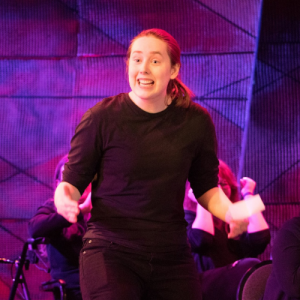 Eileen Breslin
(they/them)
Washington Improv Theater
Tandra Turner
Meredith Garagiola
While enduring excruciating pain and lying in a hospital bed in the dead of night, 13-year-old Eileen officially discovered improv via the sanity-saving, laughter-inducing Whose Line Is It Anyway?
Five years later, a queerplatonic partner of theirs at the time suggested they do "stand-up," a compound word Eileen quickly recognized as a layman's code for improv, a practice and community Eileen would later fall in love with.
Eileen has studied at The Comedy Spot, DC Improv, WIT, Studio Theatre, iO Chicago, The Annoyance, UCB NY, The PIT, and WGIS. They have most recently performed on WGIS' house team BULLFROG as well as WIT's family-friendly ensemble The NitWITs, mash-up show People of the District, and special project The Feminine Experience, an improvised tribute to Eve Ensler's The Vagina Monologues. Notable indie teams have included Winged Wombats, 37 Puppies, Siblinghood, FRIDAY, and The Districts.
To make the art form more accessible for all people, Eileen has contributed to the Individual Agency, Neurodiversity, and Physical Disability committees of Diversity in DC Improv.
By day, you can find Eileen meandering through Rock Creek Park, singing and playing rags and jazz pieces on the piano, dancing with abandon, practicing yoga and biking across the city with their housemates, studying cooperative communication, reigniting their flame with math, challenging systems of oppression such as amatonormativity, living out of their trusty Kelty Redwing 2500W in places they have longed to sojourn, taking long naps, snuggling with their daredevil of a dog Koda, and drafting long love letters to the many people—acquaintances and partners and close friends alike—in their life.
Favorite book
It's a tie between Tuesdays with Morrie and Descartes' Error: Emotion, Reason, and the Human Brain.