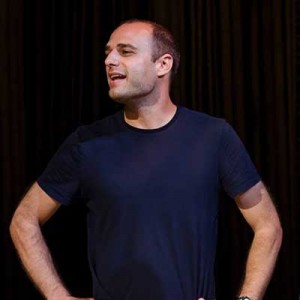 Matt Guttentag
Washington Improv Theater
Ryan Schleeter
Adam Fishbein
Matt Guttentag originally started taking classes at WIT in 2013 because he thought it would make him look interesting on his OKCupid profile. But the improv bug bit him and he's been performing ever since.
Matt is currently a member of the indie troupe Middle Child and as well as the semi-musical Rock Creek Ramblers trio. He is a sucker for nineties nostalgia, podcasts, and word games; so his dream is to someday host an NPR puzzler show with Jonathan Taylor Thomas.
Matt eats the same thing for lunch every day.
Photo by Jeff Salmore
Favorite snack
Lunchable Pizzas
Favorite website
Wikipedia list of inventors killed by their own inventions (http://en.wikipedia.org/wiki/List_of_inventors_killed_by_their_own_inventions)