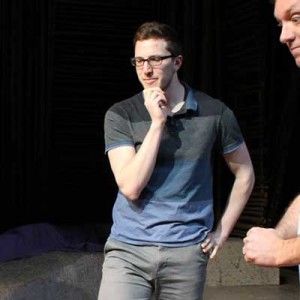 Ryan Schleeter
Washington Improv Theater
Lauren Woody
Matt Guttentag
Two days after beginning improv, Ryan Schleeter came out of the closet. Because one person can only make so much stuff up at a time.
Ryan began improv and sketch comedy in 2009 with Macalester College's Fresh Concepts after following a cute but woefully unfunny boy to the audition. Since then, he's trained at WIT, iO, and Huge Theater. He can also be seen with indie team Invisible Knapsack.
When not improvising, Ryan plays saxophone in local funk band AZTEC SUN and sweats profusely while riding his bike around DC.
Best dance move
Just singing along really loudly