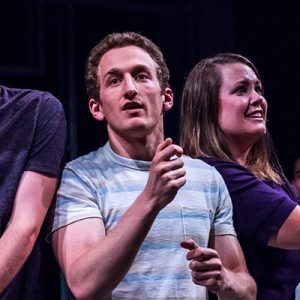 Adam Fishbein
Washington Improv Theater
Matt Guttentag
Adam Koussari-Amin
Adam Fishbein grew up in Owings Mills, Md., and has been improvising his whole life (without even knowing it).
He has studied at the Washington Improv Theater and Upright Citizens Brigade Theater in Los Angeles. In DC, he's performed with The Female Accent and Mount Lincoln's Beard.
Adam also writes fiction, screenplays, and comedy sketches. He'll even write your obituary for you if the price is right. Outside of improv, Adam can be found listening to birdsongs and slurping down bowls of pho.
Photo by Jeff Salmore
Favorite snack
Sour S'ghetti Gummis
Hidden talent
Driving with my eyes closed!