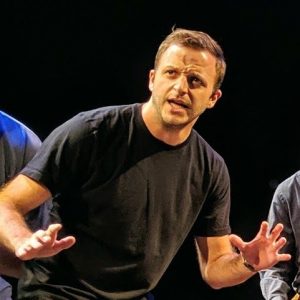 Matt Coit
Washington Improv Theater
Max Holtz
Mark Powell
Matt reached the pinnacle of academic achievement in fifth grade when he won his school geography bee. He then began his search for something that would provide a similar intellectual challenge. 17 years later he found improv.
Matt completed the WIT curriculum in spring of 2019 and performs with his indie team Trust Issues. He competed in FIST with the team Separation Anxiety.
When Matt is not improvising, he enjoys playing ice hockey, discovering bands that were popular five years ago, and over-analyzing conversations from months prior. He is a man of principle and has two rules that he lives by: (1) he doesn't eat sandwiches for dinner, and (2) he doesn't watch scary movies involving the devil.
Personal Motto
Any Rebroadcast, Retransmission, or Account of this Game, without the Express Written Consent of Major League Baseball, is Prohibited.
Best Dance Move
I spent the better part of an hour trying to learn The Dougie.