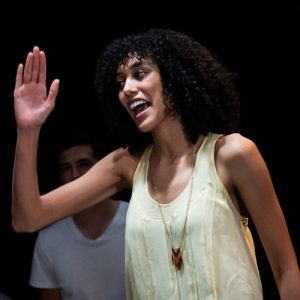 Lori Pitts
Washington Improv Theater
Lauren Gabel
Anuj Christian
Lori Pitts asked her parents for a WIT class for Christmas in 2017. Little did she know, it would be a gift that just kept on giving. Her parents love to be thanked daily.
Lori Pitts studied improv in college through her theatre degree and completed the full curriculum at WIT. She's taken several one-off workshops with members of UCB as well. She loves practicing and performing with her indie team, Imagine Wagons, and has performed in the WIT special project, "Vagina! An Improvised Monologue Show!"
During the day, Lori fights for justice! She is passionate about using the arts as a tool for social change. She runs her own organization, Voices Unbarred, where she guides people who are incarcerated in writing and performing an original play about their lives and issues with the prison system. She also is a professional actor in the area.
Favorite Snack
Cheese and honey
Personal Hero
Harriet Tubman. What a badass.
Hidden Talent
Making highly accurate Bitmojis of people