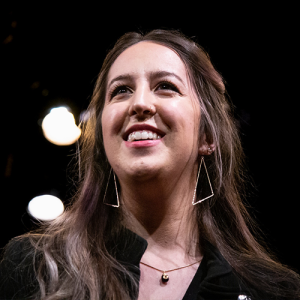 Lauren Gabel
(she/her)
Washington Improv Theater
Alex Waddell
Lori Pitts
Lauren grew up wanting to be a great actress and is thrilled that dream has played out by having a lot of fun with improv.
Lauren started her modest theater aspirations in high school where she played many significant roles such as "Towns person" and "Chorus Member" and earned prestigious titles like "One of Those Theater Nerds." It wasn't until deciding on a whim to try out a WIT class did she truly realize her true star power potential. Lauren has completed the WIT curriculum (plus some fun electives) and is a proud member of indie teams: Small Mediums at Large, La Vie en French, and Pete Wolf.
When Lauren is not doing improv, she likes to come up with ridiculous theme parties to throw with friends. She is also always thinking about where in the world to travel next, so please do tell her about any good recommendations.
Favorite Snack
Any and all cheese
Best Dance Move
The Sprinkler
Hidden Talent
My spot-on Alvin and the Chipmunks Impression