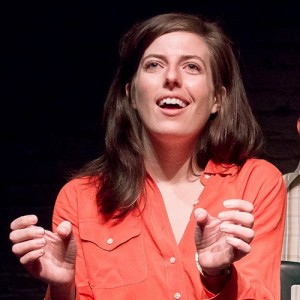 Liz Sanders
Washington Improv Theater
Isabel Galbraith
Marc Reber
Liz is originally from Pittsburgh, Penn. and started improvising in 2012.
Liz trained at DSI Comedy Theater in Chapel Hill, N.C. As a company member at DSI, she performed the Harold and was a founding member of the legendary(-ish) hip hop improv supergroup Public Frenemy. She also wrote and performed sketch comedy.
Here is a list of things that Liz enjoys against her better judgement:
expensive salads
going to psychics
challenging strangers to rap battles.
Photo by Kristin Horgen
Childhood nickname
The Colonel
Personal motto
I don't have a new lease on life, I rent to own.
Liz loves improv because it's really fun. And because it distracts her from her crushing fear of death.
Ever since taking her first improv class, Liz was hooked. She loves how improv can help take you out of your comfort zone and help you face your fears (well, most of them).
Liz thinks everyone is intrinsically funny and interesting, improv just helps them let out their inner comedic gold. In her classes, she fosters a supportive yet challenging environment that is conducive to mutual discovery. Liz thinks the best part of teaching is watching students surprise themselves.
Liz has learned and performed improv in theaters in NC, DC and NYC. Currently, she performs on Madeline, a WIT Harold team, and with several other indie and seasonal projects.
Photo by Kristin Horgen
Student Feedback
"Liz has a very positive attitude and a clear love and in-depth knowledge of improv. Her experience shines through as a teacher and I love the energy and ideas she brings to class."
"She was so great at creating an environment that felt safe and supportive, and I genuinely think that helped my improv immensely."
Spirit Guide
Agent Dale Cooper
Special Talent
Talking about Hamilton (The Musical), with a heavy emphasis on Angelica Schuyler