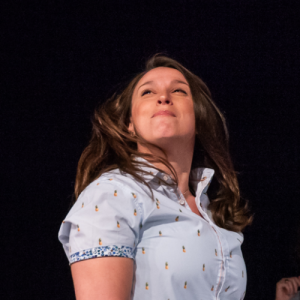 Lauren LaVare
Washington Improv Theater
Kenny Park Yi
Carolyn Ellison
After her first improv class in 2016, Lauren realized that no matter what age you are the best kind of friends come from play time. "Be bold, listen, support and add, and play with the gifts given. Improv just makes you a better human."
Lauren completed her training with Washington Improv Theater and has since performed with WIT's Vagina! An Improvised Monologue and special project Heavy Rotation. She can also be seen making googly eyes at her indie team Runaway Train.
For the past four years, Lauren has worked with organizations that help immigrants and refugees rebuild their lives in the U.S., and she is now attending American University's Washington College of Law just in case D.C. runs out of lawyers. She also has a cat named Cat.
Personal hero
Leslie Knope
Hidden talent
I can Superman you with my legs