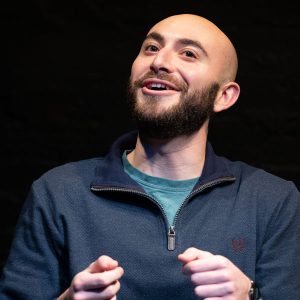 Jonah Gordon
(he/him)
Washington Improv Theater
Joseph Bushur
Emmy Harvey-Parker
Much to his 10-year-old chagrin, Jonah was forcibly signed up for a week-long improv camp by his mom. Now he's a comedy nerd. Mother knows best!
Jonah formally began his comedy journey when he joined an SNL-style comedy group in college as a writer/cast member. While he loved the writers room feel, he eventually branched out and started an improvised character show on his college's radio station. Jonah completed the WIT curriculum in 2022 and has performed all over the district, either with his indie team Dead Plant Society or with whatever oddball show idea he can rope people into. He's also participated in FIST and Improvapalooza. Occasionally, he still writes sketch comedy, too.
When not making things up on stage, Jonah can be found solving crosswords, scouring the web for Prince bootlegs, or baking bread. While they aren't mutually exclusive activities, he's never done all three at once. Yet.
Favorite Color
Venetian Taupe