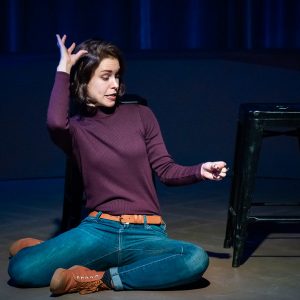 Jenna Hall
(she/her)
Washington Improv Theater
Molly Murchie
Elaine Colwell
Jenna fell in love with improv when she took her first class with WIT in the spring of 2013.
Jenna currently plays with the indie team The Female Accent, as well as WIT ensembles Hellcat and Nox! She's also a proud member of Childish Things, winner of the FIST XI Championship. If you see her on stage, she'll probably be doing something weird with her face and body.
Originally from La Plata, MD, she has been told she has a southern twang, despite Maryland being a mid-Atlantic state. Here is a random list of things she loves: fat animals, watching Frasier on Netflix, nu-metal, the YouTube clip of John Travolta messing up Idina Menzel's name at the Oscars, prairie dogs on Instagram, the theme song to Hangin' with Mr. Cooper, Keanu Reeves, whispering the word "tits" at the end of the song "Merry Christmas Darling" by The Carpenters.
Personal Hero
Aunt Jackie from Roseanne