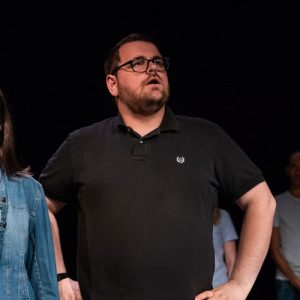 James Paul
(he/him)
Washington Improv Theater
Spencer Orenstein
Tu-An Truong
James is originally from Baltimore, Maryland and has been improvising since 2016—though one might say he has been making stuff up as he goes along all his life.
James completed the curriculum at Coldtowne Theater in Austin, TX and played in two troupes there: Paul Ryan and Illuminaughty. After moving to DC last year, he completed the WIT curriculum and also currently plays in the indie group Roommate Love.
James currently works at an education membership nonprofit and lives in DC. Previously, he was an elementary school and middle school teacher in rural Arkansas and Austin, Texas. As a result of teaching middle schoolers, he still enjoys Harambe memes. James can also quote obscure lines from popular movies and probably knows the lyrics to the pop song that you're thinking of from the late 90s-2010s.
Favorite color
Blue (and accompanying color-related music such as the hit by Eiffel 65)
Favorite snack
Chips and Queso (I lived in Austin for 3 years)