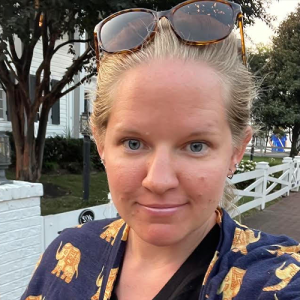 Genevieve Dabrowski
(she/her)
Washington Improv Theater
Sam Jackson
Nikki Frias
Genevieve tries to be chill about improv, but ends up signing up for everything anyway.
Genevieve was a painfully shy bookworm growing up, but always had a sneaking suspicion that she was secretly hilarious. After growing up watching Whose Line Is It Anyway?, she decided to give improv a shot. She first started improv classes at the Little Theater of Alexandria in 2017, where she ended up joining her first troupe, the Auxiliary. After spending a year of pandemic life playing JackBox games with her troupe-mates, Genevieve decided to take it to the next level by signing up for classes at WIT. She co-founded the Dead Plant Society, an extremely chaotic indie team for other weirdos who are in way too deep, and also plays on The Real Winners. She also enjoys musical improv and coming up with experimental formats.
When not doing improv, Genevieve can be found racing in triathlons, playing guitar, or borrowing a book from the public library. Her favorite soup is chocolate fondue (it counts!).
Favorite snack
Bagged croutons (no salad)