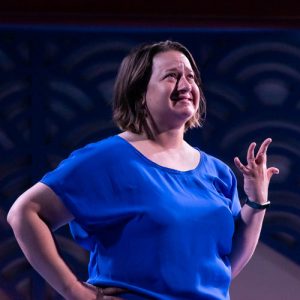 Elizabeth Cutler
Washington Improv Theater
Elijah Abram
Abel Vandegrift
Despite repeatedly telling everyone that improv is "just like real life, only onstage" Elizabeth still briefly panics before every show that she will have nothing to say, which honestly explains a lot about her approach to real life.
Elizabeth first became fascinated with improv when she was too chicken to jump into a freeze tag exercise in 9th grade theater class. She finally got up the nerve to yell "Freeze" right as the bell rang and yes, she still remembers the scene and what she was planning to do with it, though the world will never know its greatness. She got the last laugh, however, when she enrolled in her first WIT class 12 years later and quickly realized she had found a community of kindred spirits and also some other people. 
In addition to completing the WIT curriculum and a smattering of electives, Elizabeth has studied standup comedy and creative writing and invites everyone to hold her to her New Year's resolution to do more of both. She is a proud founding member of DC's first all-Spanish improv troupe Sabado Picante.
By day, Elizabeth works in the foreign policy space which may be the most DC sentence she's ever said.
Favorite color
Elle Woods pink
Personal Hero
Ashley Judd's character in the 1999 film Double Jeopardy