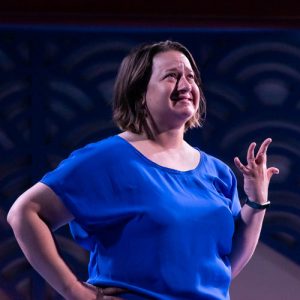 Elizabeth Cutler
Washington Improv Theater
Elijah Abram
Abel Vandegrift
Despite repeatedly telling everyone that improv is "just like real life, only onstage" Elizabeth still briefly panics before every show that she will have nothing to say, which honestly explains a lot about her approach to real life.
Often described as a "theatrical child" growing up (wait, was that not a compliment?), Elizabeth auditioned three times for her college improv troupe and never got a callback. It's fine.
A speedy seven-ish years later, she took her first WIT class and quickly realized she had found a community of kindred spirits and also some other people. She has played with indie teams The Carmichaels and Ghost Club, WIT special project The Fourth Estate, and is a proud founding member of the Spanish-speaking improvised telenovela team Sábado Picante.
By day, Elizabeth works in communications for a national security research organization. Outside of improv, her passions include dabbling in creative writing, urban hiking (walking to Trader Joe's), and scripting her own Lifetime biopic, tentatively titled "Per My Previous Email: The Elizabeth Cutler Story."
Favorite color
Elle Woods pink
Personal Hero
Ashley Judd's character in the 1999 film Double Jeopardy