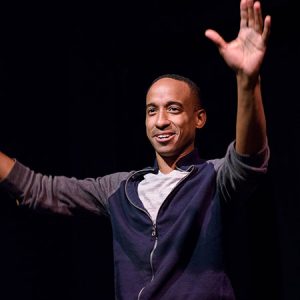 Darnell Eaton
Washington Improv Theater
Brittany Oliver
Dan Hardcastle
Darnell Eaton isn't afraid to admit that the only A he ever received on his college report card was in his improv class.
This is what provoked Darnell to seek out his improv training at WIT in 2009—it has been a roller coaster ride since then.
Darnell has performed with a number of improv shows in New York City, Chicago, and all throughout the Washington, DC area. Currently, he can be seen performing with Subsidized Corn, FreeFall, Laugh Index Theater, Allergic to Winter, and a duoprov troupe called Tell Your Friends. He also produced SubCo De Mayo in Washington, DC and Corn Abroad at the Adelaide Fringe Festival in Australia, and stars in his nerdy web series The Web Developers.
Darnell has a niche for bringing physical, emotionally ranged, and high energy characters in his scene work and has been trained in number of acting, clowning and movement technique classes offered at Synetic Theater and Studio Theater Conservatory. His passion lies in theater of which improv has been a significant tool he's used to enhance the charm and life he brings to the characters he plays on stage.
Student Feedback 
"I look forward to my Wednesday class as much as I look forward to my weekends! Each week, I grow as a person and a performer with the guidance of Darnell (an amazing teacher)"
Childhood nickname
Tweety Bird
Personal motto
"Just do something! Anything!"