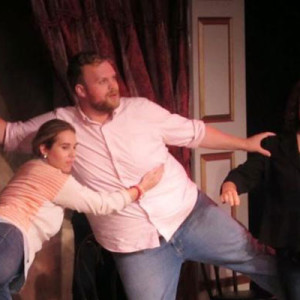 Dan Hardcastle
Washington Improv Theater
Darnell Eaton
Nancy Norman
Without improv as an outlet, Dan would have long ago driven his friends away with his attention-seeking antics.
Dan's father, himself a member of an improv troupe back in the eighties, raised him and his sisters on a steady diet of of comic riffing, made-up songs, and improv shows at SAK Comedy Lab in Orlando (where a young Wayne Brady regularly wowed audiences). Dan began improvising in college, taking classes and performing as a member of several long-form, short-form, and sketch teams with the University of Florida's Theatre Strike Force (which the improv-nerdiest may recognize from this documentary about the College Improv Tournament).
Since coming to DC in 2011 for work and, occasionally, law school, Dan has taken classes at WIT, competed in FIST, and performed with several Harold teams. In 2014, he spent five weeks in Chicago completing the iO Summer Intensive, and fantasizing about throwing it all away to chase the impossible dream of making it to Saturday Night Live. Fortunately, before he did so, he realized he's not that funny.
Favorite word
Magniloquent
Best dance move
Stir the pot