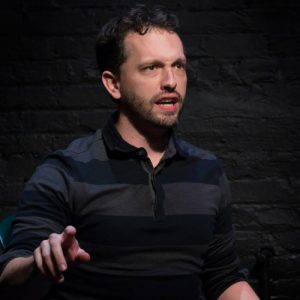 Colin Murchie
(he/him)
Washington Improv Theater
Abel Vandegrift
Andrea Quach
Colin is the most fun mean old man you'll ever meet.
Colin started performing short form in beautiful, snow-shrouded buildings with Cornell's Whistling Shrimp late in the 20th century. He was at the time unaware that "Ashokan Farewell" was playing and 20 years later he'd still be at it. Highlights of Colin's experience include as a member of Mainstage, 161, 48 Hour Film Fest including DC and national Best Film awards, Chinese Menu, iMusical, and Murchie marriage ensembles. FIST champion. He's been improvising one way or another for more than 20 years and brings a grim, recherche, consequence-centered attitude to fun.
Colin has two small children, works in the renewable energy and electric vehicle space, and is a volunteer EMT in the counties surrounding DC.
Photo by Darian Glover Photography
Personal Motto
"There is no fate that cannot be surmounted by scorn." - Camus
Favorite Snack
Pepperoni and cheese squares