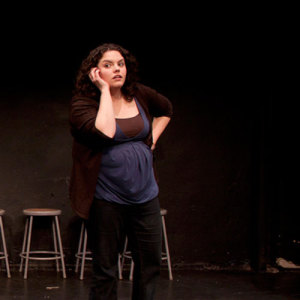 Cara Hayes
Washington Improv Theater
Stephanie Hamilton
Seth Arenstein
Cara Hayes' improv career began in a backyard on Long Island when her father handed her a BBQ spatula that became her microphone on a tree stump stage.
Starting in 2006, she was taken apart and put back together again by Washington Improv Theater's training program. Shortly thereafter, Cara and her first real-life improv boyfriend Vic Speedboat went on to play at venues around DC metro area as well as the Baltimore Improv Festival. She also played for several years with the WIT ensemble Season Six.
She is her hair, and her hair is she. They have learned to peacefully coexist with the support of friends and a daily regimen after which most people would need a nap.
Photo by Andrew Bossi
Best Dance Move
The Irish goodbye
Favorite Color
New York Mets blue