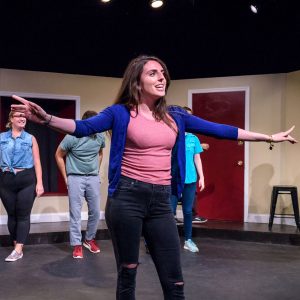 Ari Kaiser
Washington Improv Theater
Ryan McCloskey
Erin Murray
Ari was drawn to improv because she loved making things up and getting attention.
She stumbled into long form improv at Evanston Township High School. Her love for improv increased when she joined Suspicious of Whistlers, the Harold team at Washington University in St. Louis. She and her fellow Whistlers, while remaining suspicious, made annual pilgrimages to Chicago to do workshops at its famed IO theater. Recently relocated to Washington D.C, Ari is thrilled to be a part of the WIT community!
Ari works to retain a good sense of humor which was required from an early age after her parents misread a naming book and gave her a middle name that in Hebrew means "septic tank" or "full of sh*t."
Personal motto
There are people who walk in the rain, and people who just get wet.