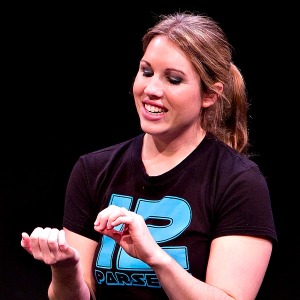 Amanda Barber
Washington Improv Theater
Gregor Nazarian
Katie Ozog
Amanda Lee Barber has been performing improv in Washington DC since 2009.
She was an original founding troupe member for indie teams Just Moxie from 2010-2014. the Washington Improv Theater Harold teams Breaker Breaker in 2013-2014, and Fisticuffs in 2014-2015. Amanda earned her B.A. in arts management with a minor in musical theater at the University of Tulsa. She has performed in several improv festivals including the Del Close Marathon in 2011, 2012 and 2014; Harrisburg Comedy Festival in 2011 and 2012; Chapel Hill Comedy Festival in 2012; and the South Jersey Comedy Festival in 2012 and 2013.
Amanda currently works as the scheduling and rentals manager for the Clarice Smith Performing Arts Center at the University of Maryland. Her hobbies include golf, Zumba, and pretending to read the book her book club has selected.

Photo by Andrew Bossi
Personal hero
Buffy Summers