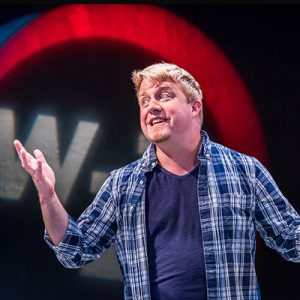 WIT to require booster shots, medical-grade masks in light of omicron
National Endowment for the Arts awards WIT a new grant to support Project Create partnership
Space update: A note from Artistic/Executive Director Mark Chalfant
UPDATE: For the latest on WIT's COVID policies, check our COVID Safety page. While Mayor Bowser has relaxed some of the District's COVID safety measures, WIT will retain our current policies for the duration of the performance runs of FIST and Your Town. All audience members should be prepared to show proof of vaccination against COVID-19 (including booster) and wear a medical-grade mask.
In response to the Omicron variant of COVID-19, Washington Improv Theater is enacting more stringent vaccine and masking requirements to ensure the highest level of public safety for our students, audiences, artists, staff, and volunteers. 
These measures include:
mandating a booster shot for entry 

requiring medical-grade masks (not cloth masks)

encouraging our performers to take a rapid-at-home test before stepping on stage maskless
Mandating Booster Shots 
WIT will now require all students, performers, faculty, volunteers, staff and audience members to receive a COVID-19 vaccination booster shot by Sunday, Jan. 30, 2022 – or 30 days after becoming eligible for a booster, whichever is later.
According to the CDC, all adults are eligible for a booster shot six months after their second shot of Moderna or Pfizer and two months after their first shot of Johnson & Johnson. 
Although we are setting a Jan. 30 deadline to give our community members some time to get their booster shots, we strongly recommend getting the booster shot as early as you are eligible to do so. 
Performers and audience members will need to show their vaccine proof at the door. Volunteers should email an updated vaccine card to jordana@witdc.org. 
For students: Students who have previously submitted proof of vaccination will need to resubmit their vaccine cards containing the booster shot.
The best way to do this is to upload your verification directly to your ASAP student portal here: https://witdc.asapconnected.com/. You'll find the login in the top right corner. Once you've logged in, you'll see the Documents tab on the left side. Please upload an image of your vaccination card or acceptable medical documentation.
If you have trouble uploading your vaccine proof, please reach out to classes@witdc.org. 
Requiring Better Masks 
Medical experts report that cloth masks do not provide enough protection in the face of Omicron, so WIT will be requiring medical-grade (or better) masks while in attendance at shows, classes, workshops, jams, and other inside events.

While we recommend well-fitting KN95 or N95 masks, we will be requiring at least a medical-grade mask to enter the premises. Masks must be worn over the mouth and nose while inside the building. 
Cloth masks will be prohibited, unless being used to double-mask. 
Concessions will remain closed at all performances to ensure masks remain on. 
Encouraging Performers to Test
WIT is encouraging all performers to take COVID-19 tests before stepping on stage maskless. Widespread testing before performing on stage should help to limit the potential spread of COVID-19. 
You can find local testing locations at https://coronavirus.dc.gov/testing
As always, the safety, comfort and well-being of our community is of the greatest importance. If you have any questions, please reach out to the WIT staff at wit@witdc.org. 
Published:
December 27, 2021