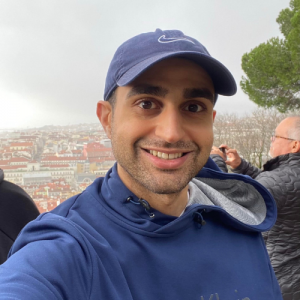 WIT Student Sultan Al-Mutawa: Improv Lessons Helped Me Start Voice Acting
Improv for DevOps and Agile Development
Icebreakers for Online Meetings
In February, Sultan Al-Mutawa faced a major career shift when he decided to pursue a lifelong dream of becoming a voice actor. The first advice he received was to take an improv class, so that's exactly what he did. The skills he learned in Samantha Watson's online Level One class helped him land the his first job.
What got you into voice acting? 
It was the February of 2020, and I've made plans to retire from my job. My last day was on March 13, 2 days after WHO declared Corona a pandemic. After seeing all positions, to which I applied and was guaranteed final interviews disappear, I decided to take on voice acting. It was something I always wanted to do since I was 12.
A famous celebrity was offering one on one sessions, and I booked about 8 of them. She asked if I had any acting credits/training. I didn't, so she recommended improv. So for the next few months, I've been taking both improv and voice acting sessions
How has improv helped you as a voice actor?
It helped me convey different emotions in my voice. The exercise where we were supposed to emote a particular emotion at different levels helped tremendously. In fact, I executed that very same technique to record my last voice over job.
Tell us about your most recent voice acting job.
I got the audition through a connection. When I spoke to the marketing person, she was very clear on what she wanted and how she wanted it to sound. I had the right headspace to deliver the job and acting method, but showing emotions was a challenge for me at the time. I just had to show an insane amount of enthusiasm. 
After plenty of takes, I remembered an exercise that Samantha had us do; Regardless of the action you're executing, you are to emote a strong emotion (e.g. being very upset and juggling, or showing excitement while chopping onions). I've extrapolated this to the last recording and it happened to be the one that the Marketing person absolutely loved.
What skills are you hoping to continue to develop through improv to help you as a voice actor?
Where to start… Ad libbing, switching emotional gears on-the-fly to add flavor to a character's line (I can't be a robot for all my voice acting jobs), and, most importantly, really think outside the box and have fun with a script versus judging it at face value 
Improv class can have a positive impact on anyone's life. Sign up for a level one class here.