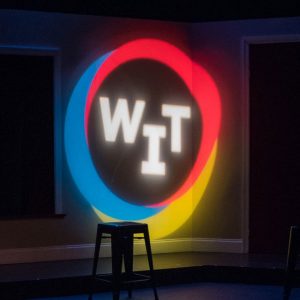 WIT Seeks Production Manager 
Hey Congress! Let the lessons of improv help you get to yes (and)!
WIT adds 25 new players to Harold teams
Update: As of October 2023 this position has been filled.
Posted 7/31/23. Rolling consideration and interviews.
The Production Manager manages and meets the production needs for all Washington Improv Theater performance runs, class showcases, and other public-facing performance events at rental venues throughout DC, including WIT's current residency at Studio Theatre. This includes oversight of lights, sound, projections, audience seating, riser configuration, scenic elements, props and costumes. Other show venues have included Source, DC Arts Center, Atlas Performing Arts Center, and others.
Primary Responsibilities
Coordinate all production needs (primarily lights, sound, set/s) with the Artistic/Executive Director, Operations Manager, multiple show directors, and/or ensemble directors, and contracted designers and/or technicians.

Coordinate load-in and strike for performances at venues in consultation with venue managers, lighting designers, crew, and/or other renters. This includes hiring and contracting, as needed and on behalf of WIT, lighting designers, set designers, technicians, and other personnel. Includes operating within agreed-upon budget constraints, communicating about space use, and making appropriate space reservation arrangements.

Oversee WIT's booth operatives, scheduling and coordinating coverage for each run.

Document production details (lighting, sound design, sets), including paperwork, training checklists, and manuals, 

Occasionally lead production training sessions for lights/sound operatives 

As possible, be on call during show runs to answer production questions and problems from on-site staff and help provide coverage as needed to ensure success

Production Manager should plan to be on-site for load-in and strike maneuvers.

Production Manager will meet weekly or every two weeks with Artistic Director and Operations Manager for planning and review purposes.

Production Manager reports to WIT's Operations Manager and works closely with WIT's Artistic & Executive Director. 

We estimate 25 hours per week on average, but work volume fluctuates with production schedule.

If interested, the Production Manager may also serve as the lighting or scenic designer for WIT productions.
Pay: This is a part-time, hourly position at $26.00 per hour, to be reported bi-weekly via timesheet submitted to the Operations Manager and Artistic/Executive Director. This is subject to deductions for taxes and other withholdings as required by law or the company's policies. Payment will be made via ACH Direct Deposit or in bi-weekly checks or as otherwise arranged. Pay is reviewed annually as part of the performance evaluation process. 
Benefits: This is a part-time hourly position and does not accrue paid leave or employee savings benefits. However, DC and Federal holidays are paid holidays for this position. If scheduling requires holidays to be work days, holiday pay is added on. Health insurance may become an option after a three-month trial period. 
Professional Development: WIT actively encourages professional development and seeks to invest in training and materials to help team members master their jobs and build their skills. Training is approved and funded on a case-by-case basis.
To apply, please send a CV and brief cover letter to the WIT Team, care of Mark Chalfant, Executive and Artistic Director, at mark@witdc.org .