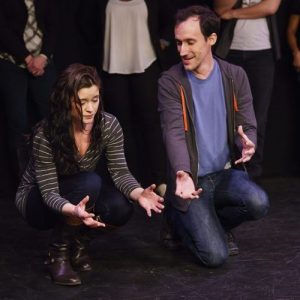 WIT Offers Free Improv for All Workshop Tailored to IT Professionals
"Starship Odyssey" Costume Designer Bill Nelson: "I never want a costume piece to limit what could be discovered onstage"
Heavy Rotation announces auditions
IT professionals are people, too! Maybe certain coworkers need a reminder of that now and again, but WIT is here to help.
Join us for a free Improv for All workshop created with IT professionals in mind and focused on the unique challenges and needs of that field. Not an IT pro yourself? Please share this information far and wide with anyone you think might be interested.
WIT's free introductory Improv for All workshops are high-fun, low-stress classes designed to show you how improvisers create spontaneous, off-the-cuff theater. Our enthusiastic and friendly instructors work to make sure everyone is able to participate in a playful and trusting atmosphere. This workshop will be taught by a former IT professional and WIT's current education director Jonathan Murphy.
The workshop will be held on Friday, July 26, 2019 at 7:00PM at Source (1835 14th St. NW).
These workshops are free but registration is required. They tend to fully enroll.
This workshop is targeted to IT professionals, so if you'd rather sign up for a regular workshop, you can do so at witdc.org. We offer workshops for the general public all the time!
Please note: This workshop takes place in a second floor space with no elevator. If you have any accessibility concerns, please email wit@witdc.org.
You don't need theater experience. You don't need to be a "funny person." Just come in ready to have a good time. Improv is an amazing way to help people connect with each other and have a reignite their sense of play. And we think Washington needs that pretty seriously.