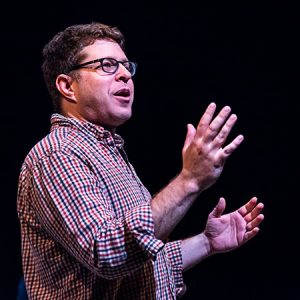 WIT launches free three-week workshop on doing improv online
Regarding Covid-19: A message from WIT's leadership
WIT extends suspension of public activities
Beginning on Monday, March 30, WIT will launch its first-ever online class: Introduction to Online Improv. This free, three-week wokrshop offers you the opportunity to experience the joy of performing and capturing improv online, with others as well as on your own.
What is it?
In this workshop, participants will explore different ways to do improv online and create their own weekly improv performances. The weeks are dedicated to the following topics: Improvised Monologues, Improvised Scenes (you'll be paired with a fellow workshop participant), and Improvised Shows (you'll be assigned to a troupe of three to five participants).
The class is co-led by WIT@Work Director and faculty member John Windmueller, Mark Chalfant (WIT's Artistic/Executive Director), and Caroline Howe (faculty member).
How does it work?
This isn't a lecture-style class—it's a learning community. John, Mark, and Caroline will be offer support and endless cheerleading, but honestly they will be exploring and learning right along with you.
There will be two activities each week ("reflect" and "create") that represent about an hour of work. You are welcome to do more, but we know and respect that people's lives are busy and stressful. This is meant as a simple and low-key way to explore, connect, and find some improv joy.
Participants will be able to share and connect via a private Facebook group (you'll need an account to participate there). This will be primarily structured as an asynchronous workshop, so no need to log in at a particular day or time. We may also have live office hours (via Zoom) and demos, but these won't be required and they'll be made available as recordings.
Who can take the class?
The class is open to anyone in the WIT community (and beyond!). There are no prerequisites, but you'll need a device to record and share video (a laptop with a camera and a microphone is recommended, but a smartphone or tablet can work as well).
How do I sign up?
Click here or on the link above to register by Sunday, March 29 at 11:59 PM.