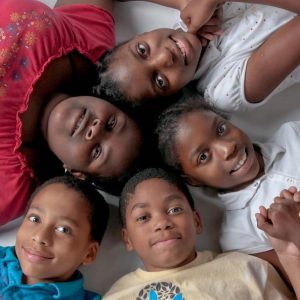 WIT awarded grant from National Endowment for the Arts
Make an impact by joining WIT's Board of Directors
Breaking down language barriers with improv: Analía Gómez Vidal
For the second time in the organization's history, Washington Improv Theater has won a grant from the National Endowment for the Arts.
The $10,000 award was granted through the Grants for Arts Projects program. It will fund a year's worth of youth work with Project Create, an Anacostia-based nonprofit that provides accessible arts education to promote positive development in children, youth, and families.
As part of the partnership, WIT will create after-school programming for the spring, summer, and fall sessions at Project Create in 2021. Initially, these sessions will be virtual, although the possibility of in-person programming will be assessed for the fall.
"Project Create is thrilled to partner with Washington Improv Theater to offer exciting, new performing arts opportunities to DC youth in 2021," said Project Create Executive Director Christie Walser. "We believe in the enormous power of theater and the impact it has on positive youth development; our students build social and communication skills, develop self-confidence, and collaborate in healthy ways with their peers."
"Improv is unique in what it offers young people—there are big rewards when actors risk vulnerability and build trust with their audience," Walser continued. "We can't wait to see this in action at Project Create!"
WIT Education Director Jonathan Murphy and Education Manager Kacie Peterson will work closely with Project Create to learn from their successful programming model to enhance WIT's other youth partnerships.
Murphy noted he has been following Project Create's work since meeting Walser at the National Guild for Community Arts Education in 2017 and has been impressed by the program.
"When Kacie and I first met the staff at their offices, it felt like we all spoke a similar language in managing effective arts programs," Murphy said. "They put a lot of care into the planning, process, and communication with teaching artists. There are one-on-one debriefs every week to ensure that teachers get timely relevant feedback for lesson planning. I look forward to learning from their model."
WIT's partnership with Project Create kicked off with a recent workshop for families led by Samantha Watson. After the workshop, Project Create Program Manager Kristina Lyles said that she was inundated with messages asking for more opportunities to do improv.
"The entire experience was nothing short of amazing," Lyles said. "Our participants thoroughly enjoyed the activity. Many of them asked if the workshop would be offered on a regular basis. I happily shared that we were in conversation about working together."
In addition to Project Create, WIT's partner organizations for youth improv include Marie Reed Elementary, Capital Village Public Charter School, and Sitar Arts Center.
Published:
February 3, 2021