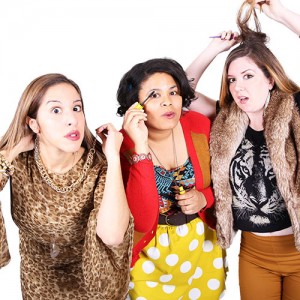 Support WIT's All-Female Ensemble: The October Issue
WIT Student Profile: Anthony Cusumano is an improv documentarian
WIT welcomes Brittany Oliver to staff
Washington Improv Theater's original production The October Issue hits the stage this fall. Directed by Jaci Pulice, this contribution to the Women's Voices Theater Festival uses the format of a women's magazine to offer an unvarnished look at life from a woman's perspective that is inspired, fun, and Photoshop-free. Your support as sponsor of The October Issue will help WIT mount this ground-breaking production.
As the District's premier longform improv theater, Washington Improv Theater is at the forefront of creating ambitious and creative unscripted theater. These shows are only possible through support from audience members and local businesses.
You can help out in two ways:
•  Come to our wild and amazing drag show – For the Improvised Drag Spectacular a select cast of WIT gentlemen don frocks and heels and other women's wear to support their sister improvisers in The October Issue. Enjoy a glass of bubbly and catch these dudes exploring life as the fairer sex. For the second act, the cast of The October Issue will take the stage. All proceeds go towards supporting The October Issue.
•  Reap the benefits of sponsorship – Step up as a sponsor of The October Issue to help us stage this one-of-a-kind production. In addition to supporting the all-female October Issue ensemble, there are perks to each sponsorship level. Check out the benefits of sponsorship below. Donate to become a sponsor and we'll be in touch with the perks!
Premium Sponsor ($1,500+)
Program recognition as a premium sponsor of The October Issue
Admission to an exclusive event for the Women's Voices Theater Festival.
Recognition on WIT's website
A pair VIP tickets to the show and a meet-and-greet with the cast afterwards
Shout-out on The October Issue's social media
Sponsor ($500-$1,499)
Program recognition as a sponsor of The October Issue
Recognition on WIT's website
A pair VIP tickets to the show and a meet-and-greet with the cast afterwards
Shout-out on The October Issue's social media
Subscriber ($50-$499)
Program recognition as a "subscriber"
Shout-out on The October Issue's social media