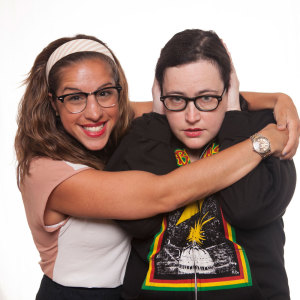 SitCommonwealth Sits Down for an Interview
WIT Selected as One of Region's Best Nonprofits
Jackie Improvises the End of the World
WIT ensemble team Commonwealth pays homage to the classic 80s sitcom in this summer's indulgent improv event BINGE. Complete with opening credits, commercial breaks and even a few "very special episodes," SitCommonwealth is one of the most technically ambitious projects ever untaken by a WIT ensemble. Commonwealth (Jules Duffy, Justus Hammond, Jamie Lantinen, Jack Novak, Caroline Pettit, Jaci Pulice, Kate Symes, Stewart Walsh, and director Michael McFarland) recently answered some of WIT's questions about their show.
WIT: Tell us about your format! How did you concoct it?
Every week, Commonwealth hosts a charity sitcom viewing party for unfortunate folks who don't have cable or Hulu Plus. The idea grew out of that charity work. Seriously though, we were brainstorming about genre ideas and someone, I think it was Jaci, threw out 'sitCommonwealth' as an idea. The name was so perfect – because you know, it's our troupe name and a genre in one – we all instantly latched on, even though we really had no idea at that point how we would do it. The details of the format were worked out over many weeks and many viewings of old TV sitcoms, until a basic structure began to emerge in which we would all develop regular characters to play every week. Once that was settled, it gave us the anchor around which to build the format, modeled after a standard network sitcom.
Tell us about a fun scene in the show during rehearsal (or during one of your first performances)?
As the cast has developed these characters in rehearsals, there have been so many amazing discoveries that have left us all in stitches. At one rehearsal we discovered Caroline's character Amber (who is, shall we say, "quirky", and "British") had an imaginary friend "Toby" and nobody could keep a straight face through the 30 minute practice run. You've never seen anyone improvise better with someone who wasn't there. It was hilarious. I really hope Toby "shows up" again in a future episode.
What makes this show different from all your other shows?
Lots of differences in this one: knowing the character we are going to play for the whole show is probably the key difference. But also, we have a set – with 2 established locations and one that can be created on the fly. We have costumes, and we have multimedia bonanza with a real sitcom opener and commercials that are awesome.
What are the some of the challenges that you face while tackling this format?
For an improv show, we're not used to having such a relatively elaborate set, props, and videos. So that took some getting used to. Playing the same character has also been a good challenge- you can't just throw the character away after a scene or two, you have to find a way to dig deeper. Also, since we haven't seen this type of show before, we were going off our comedic guts as to what may work for an audience (will they get what we're doing?). That was both challenging and frightening. We had a preview show for an audience a couple weeks before opening, and it was a huge relief to hear laughter from someone other than ourselves.
Did the group have a sitcom in particular that you were trying to emulate?
The archetypical 70's/80's sitcom is the main source of inspiration- during the rehearsal process there were many references to how shows like Cheers and Three's Company. How they functioned, their structures, their character archetypes, the outlandish plots that magically get resolved in 22 minutes. In addition, we can't help be influenced by more recent sitcoms like Friends and Seinfeld – partly because more recent shows absorbed the successful bits of the earlier ones, but also because out concept is a bunch of 'friends' in a group house.
Which television sitcom would you reboot if you could?
Jaci: The Office but a reboot where Michael Scott never left. We talked a lot about the need for conflict in sitcom episodes and the amazing thing about a character like Michael Scott was he often was driving the conflict and the heart of the episode. In rebooting the show, I'd hope Steve Carell would get that Emmy he so greatly deserved- Michael's behavior horrified us but ultimately, you loved that guy. I miss him.
Jules: Sportsnight if you could keep Josh Charles and Aaron Sorkin wasn't a misogynist.
Caroline: Absolutely Fabulous (AbFab). I loved the accents & the nuttiness but when it was on, I was a little too young to get all the references. I can empathize with the excessive wine drinking now.
Kate: Punky Brewster. An orphaned girl being raised by the village of people in a Chicago apartment building… I think it could even turn a little grittier and more dramatic, like Punky Brewster meets Freaks and Geeks.
Jack: Fawlty Towers. But only if we could go back in time and just let it continue on past two seasons. I think a reboot per se would probably be lame.
Justus: Married with Children
Stew: I would reboot Alf because he was one of the funniest characters in the history of television (at least that's what my 8-year-old self thought).
Jamie: All in the Family. So few pieces of art are able to address such big social issues while still be entertaining for a wide audience.
Michael: What's Happening!
If your lives were actually a sitcom, which actors/actresses would you choose to portray yourselves?
Jaci: Maya Rudolph: I often burst into song, dance and wear all of my emotions on my face. Maya can handle the theatrics.
Jules: Julia Louis-Dreyfus. I mean, aim high, right?
Caroline: Melissa Joan Hart from her Clarissa Explains It All days. I once signed a kid's basketball at a YMCA as her & he totes fell for it.
Kate: Greta Gerwig. She's the right amount of weird. But far classier than I am, which I think is what you go for when finding an actor to portray yourself.
Jack: Bill Murray. If Jules can aim high then so can I! Bill Murray is my spirit animal.
Justus – Rerun from what's happenin' – mixed with JJ from good times – mixed with Will Smith from Fresh Prince.
Stew: Bruce McCulloch (from the Kids in the Hall). I would just want to be a recurring side character — someone's strange, overbearing boyfriend or something like that.
Jamie: Matt Walsh. That guy is hilarious, and also, I fear i'm becoming more bumbly and lazy like his character on Veep.
Michael: Tom Selleck would play me, sans mustache.
Published:
October 14, 2014